11-year-old tackles bullying from the top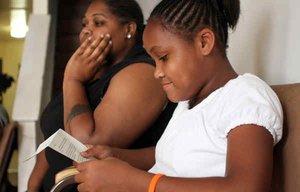 President Obama receives 65,000 letters a week.  He has made it a practice to read 10 every day and he personally responds to a handful.  In March, 2010, he received a letter from 11-year-old Ziainey Stokes, a fifth-grader from Pennsylvania.
Ziainey kept up with the news on TV and in the newspaper.  After reading about a young girl who committed suicide after being bullied excessively, she decided to write her letter.  "It made me feel sad.  She took her life because of other kids.  She didn't get shot or anything like that.  She killed herself because of other kids bullying her."
Ziainey told the President that kids at her school were being bullied and how it wasn't right.  In fact, she had been the victim of bullying over several years to the point where her grades slipped and she became despondent.   Ziainey wanted the President, Vice-President or someone to talk to the kids at her school and tell them that it "didn't matter what you look like, or the color of your skin, you can't treat people bad."  Ziainey took it upon herself to start an anti-bullying organization at school and got her classmates on board to help others find their voice. 
The President wrote in response "Your letter demonstrates a desire to change the culture of your classroom as well as your community."  Ziainey plans to take her message to kids and parents in other schools.
Find great resources in our
---