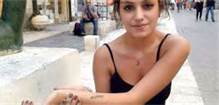 Descendants of Holocaust victims and survivors are getting tattoos to commemorate the prison camps of World War II and remind others of the tragedy. Grandchildren in Israel, Poland and other affected countries are having the numbers inscribed on their arms where their family members got their identification placed.
The practice of giving prisoners numbers began in 1941 at the Auschwitz and Birkenau concentration camps in Poland. The numbers were stamped into the skin of the lower left arm and ink was rubbed into the wound. Germany's intent was to eliminate Europe's Jews along with others thought undesirable including Gypsies and  gays.  Approximately 9 million people were exterminated.
Eli Sagir was 17 when she visited Poland and the camps now open to visitors. When she returned home she had "157622" tattooed on her lower left arm – the same number her grandfather wore while at Auschwitz. She explains "All my generation knows nothing about the Holocaust. You talk with people and they think it's like the Exodus from Egypt . . .I decided to do it to remind my generation: I want to tell them my grandfather's story and the Holocaust story."
There are an estimated 200,000 Holocaust survivors living in Israel. The numbers are shrinking and the country is faced with keeping the story alive when all are gone. Eli and others who want to honor their family and explain their history to others are commended in the way they've chosen to start the discussion. Not everyone will have a chance to visit one of the concentration camps in Europe. Eli's efforts will hopefully diminish the word spread by Holocaust deniers.
"The moment the war ended. I believed – we all did – that anyone who survived death must bear witness.  Some of us even believed that they survived in order to become witnesses.  But then I knew deep down that it would be impossible  to communicate the entire story."  Elie Wiesel, Holocaust survivor, writer and political activist – awarded the Nobel Peace Prize in 1986.
Find great resources in our
---