Arizona school district includes gay students as a protected class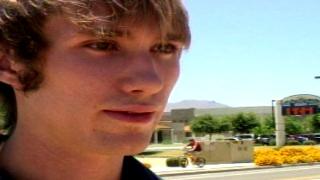 Caleb Laieski is a 15 year old student at Willow Canyon High School in Arizona. He was regularly harassed at school including being shoved into lockers and receiving anti-gay slurs in text messages. At 13, Caleb founded an organization called Gays and Lesbians United Against Discrimination.
Caleb is not one of  the 50% of gay students who are regularly harassed at school but don't report it. Instead, Caleb sought assistance from the the American Civil Liberties Union. The ACLU sent a letter to the school district urging them to address the alleged hostile environment in the district's schools.
In support of its request they educated the school administrators about the issue through recent studies about the lives of gay teens. Information from the Gay, Lesbian and Straight Education Network shows that 90% of LGBT students nationwide are regularly harassed or threatened with half of them never reporting the abuse.
In May, 2010 the Dysart Unified School District  agreed to update its student handbook to include protection for gay, lesbian and transgender students. Discussions are also underway regarding sensitivity training programs for students and staff. Kudos to Caleb for standing up for his rights and helping others gain the recognition they are legally entitled to under the Constitution's Equal Protection clause.
Caleb has decided not to return to Willow Canyon and will pursue a GED diploma and then attend community college. He continues his pursuit of justice for all gay students. In December, 2010 he e-mailed 5,000 school administrators, state lawmakers and city council members demanding improved measures to fight discrimination. Schools that don't comply may encounter "legal ramifications."
Find great resources in our
---