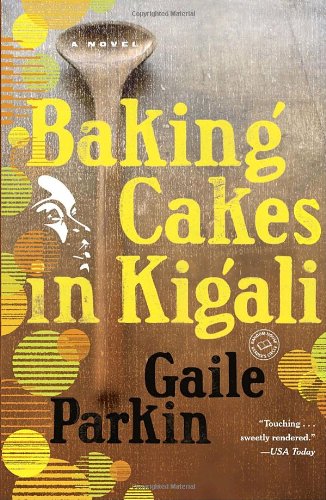 Baking Cakes in Kigali by Gaile Parkin (2009)
This book takes place in Kigali, Rwanda in the aftermath of the country's civil war and genocide where up to one million people were killed in a hundred days. Although the horrors of the country's past are not forgotten or completely reconciled, this story is predominantly one of joy, laughter, friends and family. 
Angel Tungararza is the central character of the story as well as a central figure in her community where she tends to know everyone's business. She and her husband, Pius, moved from Tanzania to Kigali where Pius took a new job at the local university. Angel and Pius's two adult children both died within recent years, so they are raising their five grandchildren. Angel and her family live in an international apartment complex with an eclectic mix of neighbors ranging from an Egyptian lawyer, a CIA agent, U.N. employees and American volunteers.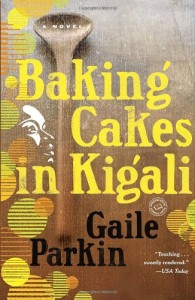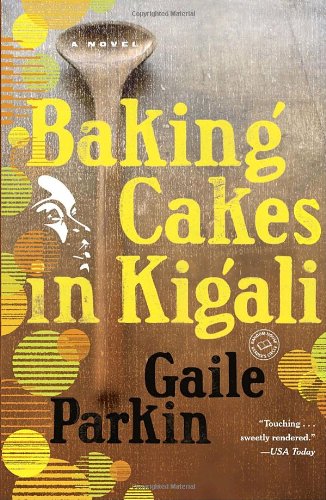 Angel has made quite a reputation for herself as making the best cakes in all of Kigali. She takes her business seriously and considers herself a professional who not only takes orders from her customers, but ends up listening to their stories, sometimes full of heartache and tragedy. Her cake business is operated out of her apartment, so when new customers show up, she always shows them a photo album of all her cakes to look through while she makes tea as "business cannot be discussed without tea."
Because making the perfect cake for the person(s) being celebrated at the upcoming occasion is of the utmost importance, Angel takes time to talk and get to know her customers. Angel is extremely personable and an excellent listener, which allow her customers to often confide in her. Stories of sadness emerge from survivors of the war, customers who have lost loved ones to AIDS and others, but Angel's soothing ways provide comfort and reassurance and she's always able to share a laugh with her customers.
For every cake to bake, there's a special occasion and for every occasion, there's a character with a story to tell. By the end of this book, you'll wish you could sit down in Angel's living room, sip some tea, order a cake and talk to a newly found friend.
Find great resources in our
---