"Bless you" for sneezing is unacceptable behavior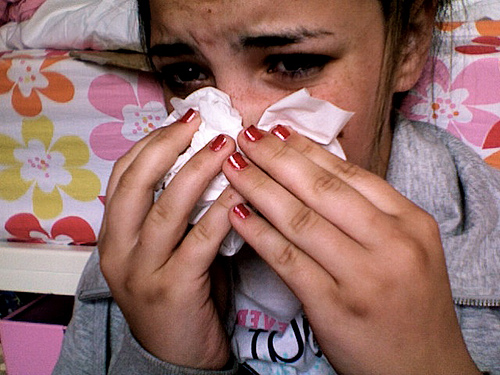 This story is one for the books. Many kids are taught as young children to say "bless you" or "God bless you" when someone near them sneezes. It is an automatic response for many of us. In turn the person who sneezed responds "thank you" or just "thanks." It's a common courtesy widely accepted throughout the world. But can the practice be abused?
Mr. Steven Cuckovich teaches a freshman health class at Will C. Wood High School in California. In September, 2011, students in the class tried to annoy him with repeated "bless you's" when anyone sneezed. After several warnings about disrupting the class, Mr. C.  docked the students 25 points off a test. He explained that the repeated sneezing followed by group blessings and thank you's were intentional and designed to interrupt his lesson.             
Mr. C. explained that "The blessing doesn't really make sense anymore. When you sneezed in the old days, they thought you were dispelling evil spirits out of your body. So they were saying 'God bless you' for getting rid of evil spirits. But today, what you're doing really doesn't make sense." The school district has the matter under investigation to determine whether the punishment fits the offense. Mr. C. decided to reinstate the points taken away from the students, but is intent on controlling his classroom.
Teachers face disorderly conduct by students on a regular basis. The challenge to teach rather than spending time disciplining students is further aggravated by the possession and use of cell phones and all-things digital in class.  Acceptable Use Policies exist in most schools but, like any other rule, they are often ignored leading to disciplinary action and regular class disruptions. Before judging the actions of a teacher, parents should first gather the facts of the incident before criticizing the teacher whose job is to prepare the student for his or her future. Lessons in common courtesy included.
What do you think?  Even if intended as a prank by some in the class, does it merit a loss of points on a test in a class that's required for graduation? Should there be a penalty for rude behavior and lack of respect shown a teacher? Where do you draw the line between harmless fun and disruptive behavior?
Find great resources in our
---