Bully sent to prison for three years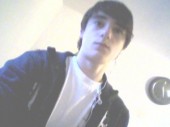 Dax Catalano was a 16-year-old high school junior in Maine when his life changed in 2011. He started dating a new girl and in January began receiving threatening messages on Facebook. The bully, Jacob Estes, told Dax he was going to cut off his hands and kick his teeth out. The two didn't know each other but Estes didn't like Dax dating his friend's ex-girlfriend. After going back and forth on Facebook for weeks,  Dax and Estes met at a local mall. Dax was there with his girlfriend to have lunch. In the parking lot he was confronted by Estes and two of his friends. Estes was 18 at the time when he punched Dax repeatedly until he fell to the ground and then kicked him in the head.
Dax suffered a skull fracture, brain injury and internal bleeding. He was left for dead and was taken to the hospital where he underwent an emergency craniotomy. Dax survived the attack and continues his rehabilitation with the support of friends and family. His parents worked to help pass an anti-bullying and cyberbullying law in Maine. It was signed by the governor in May, 2012.
Dax has decided to speak out to help other victims. In August, 2012 he attended a "Bounce Out Bullying" event at a local school. Jacob Estes was convicted of aggravated assault and in April, 2012, was sentenced to three years in prison followed by three years of probation. He was ordered to pay the uncovered costs of Dax's medical care and is prohibited from any contact with Dax and his family. You can read here the words of his parents at Jacob's sentencing. They are moving and shed a powerful light on the after-effects of thoughtless messages and physical confrontation.
Estes had no criminal history but reportedly had used bath salts in the past. He graduated from high school and enlisted in the Army. He was scheduled to begin basic training three weeks after his attack on Dax. Estes did apologize to Dax in court and has been involved in anger management over the past year. His two accomplices were charged with misdemeanors.
Find great resources in our
---