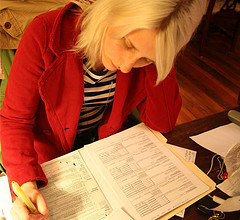 Most transactions today are put into writing, whether a lengthy legal contract or the fine print on a ticket stub or a store receipt. Putting an agreement in writing—between two people, two companies, or a person and a place of business—provides a record of the agreement. Everyone feels safer this way, particularly if one side doesn′t follow through.
But not all contracts need to be in writing to be valid. Some jobs may be done on an "as-needed" basis, and no formal contract is involved. Once the work is done, payment is due. The law recognizes this type of informal agreement. Yard work, baby-sitting, and neighborhood car washes are examples.
A contract is defined as an agreement to do something for someone in exchange for something else. It may be between individuals, businesses, or governments. If one side fails to fulfill its part of the agreement, it′s known as breaking the contract, or breach of contract.
 Generally, as a teenager, you may sue another person or business if you′ve been harmed or injured. Most states require that a parent, guardian, or other adult join in the lawsuit with you. Breaking a contract is a civil wrong, meaning that your case is filed in a civil, not criminal, court. The amount involved, whether $10 or $1,000,000, dictates in which  court  you′ll file your lawsuit.
As a teenager, you may be able to enter into certain types of contracts.Your local laws tell you what kinds and under what circumstances. You may need to have a parent co-sign the contract with you. A cosigner is fully responsible if you back out of the contract or are unable to fulfill the terms.
If you′re married and therefore emancipated, you may be eligible to enter into other contracts—for example, the sale or purchase of a car or house.You can also obtain medical care and treatment for you and your spouse. That may require your signature on a medical agreement, which is a type of contract.
Find great resources in our
---