Can stick figures in a student newspaper be censored?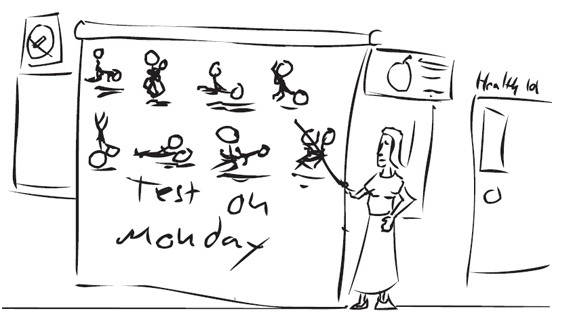 The Tattler is the student newspaper at Ithaca High School in New York. It is what is classified as a "limited public forum." A debate on the exact meaning of this phrase has begun since a federal court decision was issued on May 18, 2011.
In R.O. v. Ithaca City School District,* the Second Circuit Court of Appeals in New York upheld the censorship of a stick figure editorial cartoon about sex education titled "How is sex being taught in our health classes?" The cartoon was created for a 2005 issue but was determined by school officials to be inappropriate. In response, the students created The March Issue, an independent publication that contained the same cartoon. The school denied the students' request to distribute the newspaper on campus.
In his ruling, Judge Jose Cabranes wrote that "While ICSD [the school] apparently opened the newspaper to some–or even–many types of speech, there is no evidence that the school permitted 'indiscriminate use by the general public,' as is required to create a traditional public forum or designated public forum."
Furthermore, the court looked to a 1986 U.S. Supreme Court decision regarding lewd content. In Bethel School District v. Fraser** the high court upheld the discipline of a high school student who gave a speech at a school assembly filled with sexual innuendo. Although Fraser was about speech, the Second Circuit didn't consider it limited to the written or spoken word.
The Second Circuit's decision is limited to the states within its jurisdiction – New York, Connecticut and Vermont. The decision is subject to appeal to the U.S. Supreme Court if a petition for review is filed and the Court decides to hear the case.
What do you think about the censorship exercised in this case? Should school officials have any say about content in the school newspaper or yearbook? What is the intent of prior restraint in a school-sponsored student newspaper or yearbook?
See here for our first article about this case.
Update: On October 11, 2011 the Supreme Court in Washington, D.C. declined to hear the case. That means the decision of the Second Circuit Court of Appeals stands and the school's action in censoring the cartoon remains. Then in October, 2014 the case was dismissed since the student plaintiffs in the original lawsuit had all graduated and the school modified their journalism guidelines in 2009.
*R.O. v. Ithaca City School District, 2nd Circuit Court of Appeals, May 18, 2011.
**Bethel School District v. Fraser, 478 U.S. 675, 106 S.Ct. 3159 (1986).
Find great resources in our
---