Can you be sued for something you did when you were four?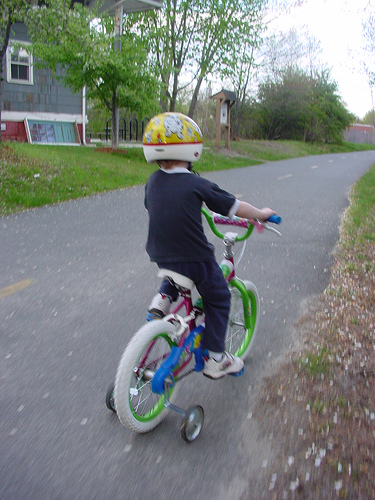 Juliet Breitman and Jacob Kohn were riding their bikes while their mothers watched.  The 4 year olds were racing down the sidewalk while their training wheels kept them upright.
They ran into 87 year old Claire Menagh who suffered a hip fracture that required surgery.  Three months later, Claire died of unrelated injuries.
Claire's estate filed a lawsuit against Juliet, Jacob and their mothers. They claim that the kids were negligent in riding their bikes and should have known they could injure someone.  Juliet's lawyer tried to get the case dismissed based on a 1928 New York decision.  In that case, the court ruled that children under the age of 4 are conclusively presumed incapable of negligence. 
However, Juliet was over 4 (actually, almost 5) and the court in October, 2010, denied the motion.  Juliet also argued that since her mother was present, she shouldn't be held responsible.  The court also disagreed with this position.  Judge Paul Wooten wrote that if the mother encouraged the risky behavior, then the child would not be responsible.
What this means is that the negligence lawsuit can proceed to trial. It will be up to a judge or jury to decide if Juliet and Jacob were negligent.
Does this decision surprise you?  Did you know teens and young children could be sued for unlawful acts or behavior?  Have you heard of parental responsiblity laws?  Most states have them.  These laws allow victims of property damage or personal injury to sue parents of kids who are responsible for their losses.  Many of these laws set limits such as $10,000 or $20,000.
Find great resources in our
---