Criminal damage or creative art?
"I had the idea in class that morning, and it kind of grew in my head, until it was something I had to do."
Joseph Carnevale used a power drill, duct tape and a knife to create his ten- foot "Barrel Monster." The 21-year-old college student stole three traffic barrels from a construction site along the highway in North Carolina.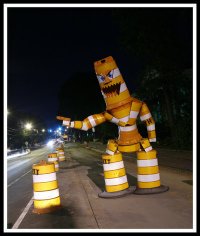 He created his hitchhiking "street art," as he called it, in ninety minutes and returned it to the site. The construction company whose barrels were taken doesn't want to press charges against Joseph. In fact, they've asked him to create another "Barrel Monster" to stand outside their headquarters.
Police charged Joseph with theft and destruction of property. Regardless of the victim's position, the police state that they have a job to do and that vandalism is vandalism.
What is your view of this case? Should Joseph be treated any different than someone who simply stole the barrels because of what he did with them?
Should the company's decision not to press charges affect the outcome of the case?
How does Joseph's activity differ from a tagger's graffiti? Or does it?
Speaking of graffiti, in November, 2010, 27-year-old Joel Delgado was sentenced to one year in prison for his artwork placed on 300 sites in Phoenix, Arizona. He pleaded guilty to criminal damage and will also serve four years of probation when he's released.

Traffic becomes art: In July, 2011, three people in Berlin, Germany created their version of art by dumping gallons of water-based, eco-friendly paint in an intersection. Watch what happens here, scroll down for the video:  http://www.myfoxdc.com/dpps/news/offbeat/art-group-paints-intersection-dpgoha-20110715fc_14134939
Find great resources in our
---