Daniel Radcliffe films PSA about gay-youth suicide prevention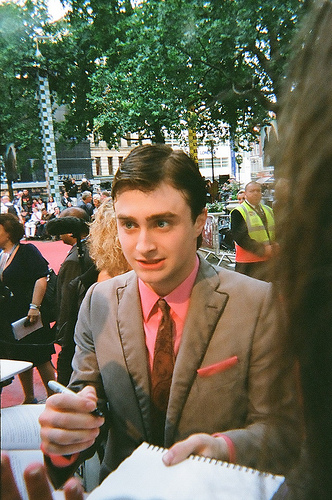 Daniel Radcliffe (a.k.a Harry Potter) recently filmed a public service announcement for The Trevor Project which is due out this spring. The Trevor Project is the leading national organization focused on crisis and suicide prevention among lesbian, gay, bisexual, transgendered and questioning [LGBTQ] youth.
With both parents being actors, Radcliffe explained that he grew up with gay people around and never gave it a second thought. But when he went to school, he encountered homophobia for the first time in his life. "It shocked me" the 20 year old actor stated. "The fact that I am straight makes not a difference, but it shows that straight people are incredibly interested and care a lot about this as well."
According to The Trevor Project, suicide is one of the top 3 causes of death among 15 to 24 year olds.*  LGBTQ youth are up to four times more likely to attempt suicide than their heterosexual peers.** The Trevor Project operates a helpline that allows young people to call in for counseling or just to talk. For more information about The Trevor Project, visit their website or to reach the Project's helpline, call 866.488.7386.
* 2006 National Adolescent Health Information
** Massachusetts 2006 Youth Risk Survey
Find great resources in our
---