Detention for wearing breast cancer bracelet
Nick Morgan is a 15-year-old freshman in South Glens Falls, New York. He has an aunt with breast cancer and another aunt who died from the disease. Consequently, Nick supports Breast Cancer Awareness. He wears a bracelet that says "I (heart) Boobies (Keep A Breast)"
Mainstream groups like the American Cancer Society support the program. Spokesperson, Charaign Sesock, stated that "This campaign is targeting teen years and college ages so that they can empower themselves to be advocates for their own bodies." Money raised from the $4.00 bracelets is used for research and local programs for patients.
In March, 2010, Nick's science teacher took offense at the message and told him to remove it. He explained to her why he wore it and agreed to turn it inside out. She disapproved and sent Nick to an alternative class for the rest of the period.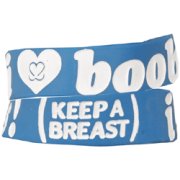 Nick continued to wear the bracelet to school and on the third day was given detention for being insubordinate in not removing it. His mother disagreed with the school's response and wouldn't let Nick serve the detention.
Nick and his mother discussed the situation with the school superintendent who agreed to waive the detention; however, the principal stated that it is prohibited for Nick and any student to wear the bracelet.* They have a meeting scheduled with the district officials on March 24th to further discuss this issue and Nick's First Amendment right to continue wearing the bracelet. The matter was resolved when Nick was moved to another science class with a different teacher. This was a teachable moment passed up by the offended teacher.
When asked why wearing the bracelet is important to him, Nick said the following:
"Breast cancer awareness is very important to me beacuse when I was young, probably 4 or 5, I lost my great Aunt to breast cancer. That was hard, I was small but I knew and loved Aunt Mary and then she was gone. I did not know at the time what happened or why she was gone and I did not even know what cancer was! A short time later another great aunt on Mom's side was diagnosed and has been battling it ever since. She can never make her three year mark but she keeps fighting…. really hard! I knew about the "keep a breast" bracelet because I heard about the program from some friends. I saw a bracelet while shopping with my Mom I wanted to get one. She had a few questions at first but I explained the program to her and I got one! Most of the cost of the bracelet goes to support breast cancer awareness among kids my age. I like that I am helping support cancer awareness because I have a Grandmother, a Mom, a Sister, two cousins… and breast cancer affects men and boys as well and anything we can do to prtotect ourselves and learn about cancer is good. I am still wearing my bracelet because this is my small part I can do. People are talking now about breast cancer, whether they agree with "I (heart) boobies" or Live strong… they are talking and sales are up (according to the zumiez in my mall) and that is never bad! I am proud of myself and I will always stand up for breast cancer whether I get a detention or not."
Thanks for sharing your thoughts with us Nick! Although the debate continues in other states such as California, some school districts are allowing the bracelets. On the other hand, schools such as Baltic High School in South Dakota have banned the bracelets.
Update:   On November 15, 2010, the mothers of two girls who attend Easton Area Middle School in Pennsylvania filed suit in federal court claiming a free speech violation. This is believed to be the first lawsuit regarding the bracelets. (B.H. v. Easton Area School District). On April 12, 2011 the Pennsylvania District Court ruled* in the girls favor stating:
"The bracelets are intended to be and they can reasonably be viewed as speech designed to raise awareness of breast cancer and to reduce stigma associated with openly discussing breast health." The court based its decision on the 1986 case of Bethel School District v. Matthew Fraser where the Supreme Court approved school discipline for lewd and vulgar speech. The message on the bracelets was neither lewd or vulgar. The judge also pointed out that no evidence was presented regarding any disruption at school due to the bracelets as required by Tinker. The decision was appealed and argued before the Third Circuit Court of Appeals in April, 2012 with a decision expected in a few months. For more on this issue, click here. Update: In August, 2012, the Third Circuit decided that the full court will rehear the case. A date hasn't been set for the hearing, but the injunction against the school from enforcing its ban remains in place. On August 5, 2013 the full court for the Third Circuit issued their opinion upholding the District Court's decision that the school went too far in banning the bracelets. The court stated that "speech that does not rise to the level of plainly lewd and that could plausibly be interpreted as commenting on political or social issues may not be categorically restricted." This case may be appealed to the U.S. Supreme Court.
On the other hand, a federal district court in Wisconsin ruled against a student in February, 2012. Middle school student Kaisey Jenkins challenged her school's ban on the bracelet. The 13 year-old, 8th-grader wore the bracelet throughout the first semester of school along with her classmates. There was no disturbance or disruption as a result of the bracelets. When the second semester started, the principal banned them and later allowed them only if worn inside out. Kaisey and her mother, Caran Braun, challenged the school's action in court and lost. The judge wrote in her opinion that the phrase "I (heart) Boobies" is sexual innuendo that is vulgar, at least in the context of a middle school." Kaisey and her mother dropped the lawsuit in March, 2012. Their lawyer explained "We decided it was better for the issue as a whole to step back and let other people take the lead. . . .We're trying to avoid making bad law." Kaisey graduates from middle school this year and will start high school where the bracelets are allowed.
In May, 2012, another lawsuit was filed in Indiana when sophomore J.A. at North Side High School in Fort Wayne was told to remove her bracelet after wearing it to school for three months. No disruption was cited but allegedly J.A. violated the rule about suggestive messages on clothes or jewelry. J.A. and her mother are not seeking money damages, only permission to continue wearing the bracelet. Her mother, Julie Andrzejewski, is a breast cancer survivor and bought the bracelet for her daughter to raise awareness among high school teens.
Are you offended by the bracelet's message? Even if you are offended, do you believe Nick should be allowed to wear the bracelet based on freedom of speech? Do the words carry a double meaning that may be seen as inappropriate? What else could you do at school to raise awareness about breast cancer or any other cause that you support?
*B. H. v. Easton Area School District, 827 F.Supp.2d 392 (2011).
Find great resources in our
---