Did a kiss or lying about it merit removal from football team?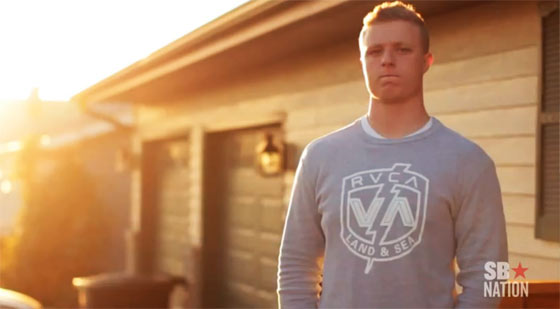 Jamie Kuntz was an 18- ear-old freshman at North Dakota State College of Sciences. He was a linebacker with a partial football scholarship but wasn't able to play in the season opener due to a concussion. However, he and his boyfriend were at the game over Labor Day weekend.
Jamie was in the press box videotaping the game for the team. At some point he and his boyfriend shared a kiss. It was seen by a teammate who reported it to the coach. Jamie's boyfriend is 65-years-old and he was questioned about the kiss on the return bus ride from the game. Jamie told his coach that he was his grandfather. Later, he felt guilty about lying to his coach and admitted the man was his boyfriend.
In a letter dated September 3, 2012, the coach dismissed Jamie from the team for "conduct deemed detrimental to the team." The team player's manual prohibited "lying to coaches, teachers or other school staff." An investigation is underway as to whether other athletes have been removed from a team for lying. Criminal violations, fighting, repeated absences and tardies have led to dismissal but this case may be the first incident involving lying.
Jamie commented that "People around here aren't exposed to it" speaking of homosexuality. "People expect gays to be flamboyant, not football players." His mother believes her son was taken advantage of by his boyfriend. They met online a year ago. He lives in Colorado and they've met a few times in recent months. Jamie may apply to other colleges and pursue his desire to play football elsewhere.
Find great resources in our
---