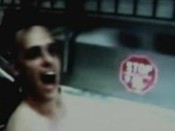 Timothy Tackett decided to celebrate his 25th birthday last week while at work. He took a bubble bath in a utility sink in the kitchen at Burger King in Zenia, Ohio.
A fellow employee videotaped the 4-minute bath so Tim could post it on his MySpace page. A shift manager was present but took no action to stop Tim. All three no longer work there –  the video may still be running on YouTube.
  In addition to obvious Burger King violations, state and city laws govern health and safety issues for restaurants and retail businesses.
Find great resources in our
---