Even the President gets bullied online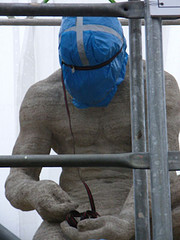 The U.S. Congress is considering a bill that would allow the government to suppress torture photos of detainees in the war on terror. The White House is supporting the bill which some argue offends the federal Freedom of Information Act.*
A Flickr (photo-sharing web site) account holder, critical of the bill and the President, posted comments on photos uploaded by the White House's official Flickr account. He also linked his comments to one of the torture photos found on a different site. When he began his second round of comments, he discovered that he was banned from Flickr, losing some 1200 pictures he had uploaded.
Flickr's policy requires compliance with its Community Guidelines. Members agree to be respectful of the community and refrain from posting inappropriate or offensive content.  When violated, users may be cut off from the site.
Use of the Internet and photo-sharing sites is a developing area of the law. It is not uncommon for content including pictures to be censored by the host of the site, whether it's Yahoo, eBay, Craig's List, etc. It helps to keep in mind the terms of use that you agree to when opening a new online account.
*The Freedom of Information Act (FOIA) was passed in 1966 and authorizes the full or partial disclosure of information and documents held by the federal government.
Read more about cyberbullying and possible consequences for Facebook or MySpace comments and uploaded photos.
Find great resources in our
---