Facebook photo leads to home robbery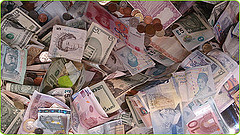 A 17-year-old girl in Sydney, Australia was helping her grandmother count her money at home. She decided to take a picture of it and post it on Facebook. Why? is a good question. She added "large sum of cash" to the photo. This happened in May, 2012 during the day. Seven hours later, at 11:30 p.m., two masked men armed with a knife and a wooden club showed up at the girl's home asking to speak with her about the money.
The girl's mother and younger brother were home. She explained to them that the girl no longer lived there. They proceeded to search the house and took some cash and personal property before leaving. No one was injured, but this could have turned out very differently. The police are investigating the incident including how the robbers were able to locate the mother's home from the posted photo.
This is a lesson in caution about posting personal information on your social networking pages. Criminals are just as familiar with the Internet and social networking sites as you are. They can put the pieces of the puzzle together and track you down if they want to bad enough. The more personal information about yourself that's online, the easier it is for a perpetrator to locate you at home, school or at work. Think before giving them an easy way to find you.
Here are some safety tips for students regarding your online life.
Find great resources in our
---