Facebook prayer group attracts runaway teen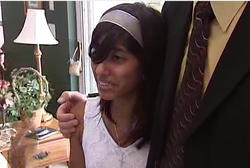 Rifqa Bary, 17, was a high school junior in Ohio. She began questioning her faith a few years ago and secretly converted to Christianity from Islam. She had to hide her faith and bible from her parents, and sneaked out to attend church with her friends.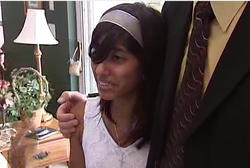 She met some people in a Facebook prayer group and in July, 2009, left home and traveled to Florida to be with the Global Revolution Church. The pastor called the authorities to report that Rifqa was with them.
Rifqa was quoted saying "My parents threatened to kill me. They love God more than me," referring to the practice of 'honor killing.'  She said that they have to kill her now as a matter of honor to their family. Her parents want her home and claim that she is in no danger – that she may practice whatever religion she chooses.
Rifqa was taken into custody in Florida and placed with state protective services. An investigation is underway to determine if she'll remain in state custody or be returned to her parents.
Parents have the right and responsibility to raise their teens and children as they see fit. This includes following any faith or no faith at all. If you disagree about religious principles, what should you do? Is there a better way to resolve differences than running away? Do you know what to do if you're in danger of being physically or sexually abused? Notify the police and/or child protective services to protect yourself or your siblings.
Update:  On October 13, 2009, a Florida judge ruled that Rifqa be returned to Ohio authorities pending further resolution of the issues. Once her immigration status is clarified, she's expected to leave Florida for her home state. No evidence of a criminal nature was produced following months of investigation. Although preferring that she practice Islam, her father was quoted saying "I have no problem with her practicing any faith."
In January, 2010, it was reported that Rifqa's parents agreed to allow her to remain in her foster home until she turns 18 in August.  They recognized that she will then be an adult and be free to do whatever she wants.
Find great resources in our
---