First Lady Michelle Obama mentors high school girls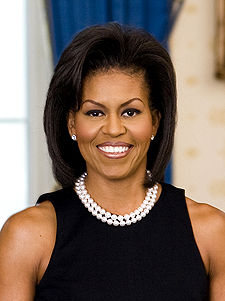 Community service and giving back is part of Michelle Obama's life. She gave up a corporate lawyer's position to run a community program in Chicago. Now Mrs. Obama has opened the White House to local high school sophomores and juniors.
Twenty girls, chosen by their principals, will spend one year mentored by top administration officials. The Vice-President's wife, Jill Biden, White House Advisor, Valerie Jarrett, Social Secretary Desiree Rogers and others will be mentoring the girls.
They will receive financial literacy training, and be exposed to different career paths including foreign affairs. They may also participate in field trips with the First Lady. In return, the girls are expected to "pass it on" when they become adults by mentoring a young person.
A similar mentoring and leadership program for high school boys that the President will participate in will soon be launched. The girls' program is a spin-off of the Women of Excellence event that took place in March, 2009. Celebrities including Sheryl Crow and Alicia Keys participated and spoke to young girls at local Washington, D.C. high schools.
Find great resources in our
---