Have you heard of computer trespassing?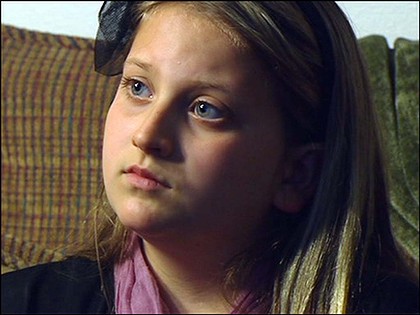 In the State of Washington, if you log onto someone's computer or personal account without their permission, you may be trespassing. Computer trespassing and cyberstalking charges were filed in April, 2011 against two students at Issaquah Middle School. The girls charged are 11 and 12 years-old.
Their names haven't been disclosed because they are minors. But the victim, 12 year-old Leslie Cote, consented to her name going public in hopes of bringing attention to the issue of cyberstalking. The girls had all been friends until they had a falling out. One of the girls knew Leslie's Facebook password and was able to log onto her account. Leslie made the mistake of saving her password on her friend's computer. They added devil's horns to one photo of Leslie and wrote across another "I'm a slut." They also instant-messaged random persons that Leslie was available to perform certain sex acts.
Leslie commented that  "They pretty much backstabbed me because I trusted them." "It made me feel really bad like people would think I was disgusting," said the 6th grader. The court issued a restraining order forbidding the suspects from contacting Leslie and from riding on her bus.
The school assessed the case and decided that they wouldn't discipline the girls. Using the Tinker standard of disruption, they determined that the educational environment had not been disturbed by their behavior. However, the criminal charges may result in probation and/or up to 30 days in juvenile detention. The 11 year-old girl will first be evaluated to determine if she understands the charges and can help her lawyer in her own defense.
Update: On July 13, 2011, the 12-year-old girl was in court after pleading guilty at an earlier hearing. She was sentenced to six months on probation, 20 community service hours and is required to be supervised when on the computer. A review hearing is set for January 6, 2012 to see if she has been successful on probation. Her 11-year-old accomplice was given community service work. We commend Leslie for standing up to the bullies and teaching others to become more than a victim or bystander.
Watch the video below for the conclusion of this case:
http://abcnews.go.com/Technology/video/12-year-old-girl-admits-to-cyber-hacking-14070677
In 2012, a Pennsylvania mother was arrested and charged with multiple counts of computer trespassing and unauthorized use of a computer. Catherine Venusto was a former employee of the school and knew the passwords needed for access. She broke into the computer and changed the grades of her son and daughter. She admitted what she did explaining she knew it was wrong but said she didn't think it was illegal. She was released after posting a $30,000 bond.
Find great resources in our
---