Hi-energy drinks are linked to deaths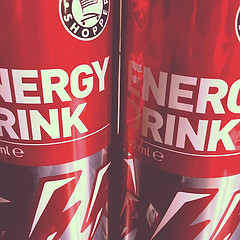 The Food and Drug Administration (FDA) has received reports over the past four years of fatalities possibly related to high caffeinated energy drinks. Thirteen reports concerned a product called 5-Hour Energy and other reports named Monster Energy. Both are sold as dietary supplements or weight loss products. Federal rules regulate two categories: one for beverages like Red Bull and another for dietary supplements. Current rules regarding energy drinks don't require listing the amount of caffeine in each drink.
When consuming a shot or two of these drinks, you don't know how much caffeine is contained in each small bottle or can. Therefore, a risk exists for anyone who slams a few shots thinking they're just getting a jolt of energy. In 2009, there were more than 13,000 emergency room visits associated with energy drinks alone. This is due to the difference in people and their tolerance levels. An eight-ounce cup of coffee may contain 100 to 150 milligrams of caffeine, while a two-ounce bottle of an energy drink may have as much as 215 milligrams of caffeine.
FDA records show that more than 30 reports since 2009 involved serious or life-threatening injuries like heart attacks, convulsions and, in one case, a spontaneous abortion. The reason some people have an adverse reaction to energy drinks is that none of us are alike when it comes to our anatomy. Some have medical conditions that include heart or liver problems that could make a regular dose of caffeine more dangerous. Others may be on a medication that doesn't work well with caffeine in the body.
Bottom line, use any product with caution and moderation. If unsure about risk factors, ask first before consuming an unknown substance.
Find great resources in our
---