High school cheerleader turned down by Supreme Court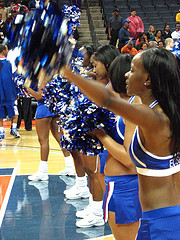 H.S. (full name not disclosed since she's a minor) was a student in the Silsbee Independent School District in Texas. She was also a cheerleader, a position that she volunteered for and one that required her to participate in sporting events.
H.S. was at a party in 2008 when she was alledgedly sexually assaulted by three students. One of the students was R. Bottom, a member of the school's basketball team. The case was presented to a grand jury that declined to bring charges against the three defendents. Bottom was permitted to return to the basketball team.
At a game in Feb. 2009, Bottom was fouled and went to the free throw line. H.S. did not join her fellow cheerleaders in cheering for Bottom as he prepared to shoot. Reportedly, her silent, symbolic protest caused a disruption in the stands. H.S. was told to join her squad or go home. She left the game and was dismissed from the team the next day.
H.S. and her parents filed a civil lawsuit against the school district claiming a violation of her right to free speech in choosing to remain silent by not cheering. The federal court dismissed the case in September, 2010 stating that H.S. volunteered for the squad and the school had no duty to promote her personal message against the player. Citing an earlier case, the court said that "Students do not possess a constitutionally protected interest in their participation in extracurricular activities." * H.S. could either cheer with her squad or leave the team if her personal views limited her participation.
On May 3, 2011 the United States Supreme Court denied H.S.'s petition to review the case. This leaves the lower court's decision in place. Contrast this case with Lindsay Earl's challenge to her high school's random drug testing policy for students involved in extracurricular activities. The Supreme Court ruled in favor of the school district, expanding the right to randomly drug test student athletes and now all those participating in any extracurricular activity. In reading these two cases together, it means that students don't have a protected right to join a school club, but if they do, they must comply with the rules required to participate.
*NCAA v. Yeo, 171 S.W.3d 863, 865 (Texas 2005).
Find great resources in our
---