High school valedictorian allowed to pray at graduation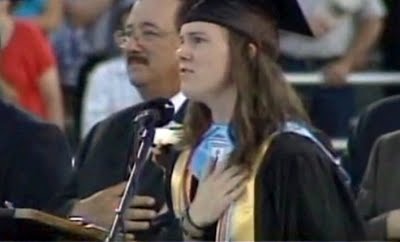 Prayer in public schools has been debated in classrooms and courtrooms for decades.* There have been cases involving a moment of silence in the morning before class, prayer in the locker room or on the field before a game and prayer as part of a school ceremony including graduation.
The First Amendment states that "Congress shall make no law respecting an establishment of religion, or prohibiting the free exercise thereof. . ."
The ongoing debate is over the meaning of "establishment." What constitutes activity by the government (school officials in this case) that is considered establishing or "endorsement of a religion?"
The issue surfaced recently at Medina Valley High School in Texas. Class valedictorian Angela Hildenbrand wanted to thank God and pray for her community in her graduation speech. A federal district court order prohibiting any statement that could be considered a prayer was reversed just before the graduation ceremony.
The Fifth Circuit Court of Appeals overturned the ban stating, "We are not persuaded that plaintiffs have shown that they are substantially likely to prevail on the merits, particularly on the issue that the individual prayers or other remarks to be given by students at graduation are, in fact, school sponsored." In February, 2012, a settlement was reached whereby students could speak freely at events and it would be made clear to the audience that religious comments were not promoted or endorsed by the school or school district.
The line is drawn between student-led or initiated prayer and school sponsored prayer. Anything that constitutes a school's endorsement of religion in general or a specific religion is unconstitutional. The blur between student free speech and freedom of religion must be handled delicately and judiciously by school authorities. Watch Angela's address to her graduating class below.
Would you be offended if a classmate mentioned God during a school assembly? What about during a graduation speech? What if a coach bended his knee and blessed himself before a game? Is that acceptable under the First Amendment? Why or why not – discuss?
*Engel v. Vitale (USSC 1962), Abington School District v. Schempp (USSC 1963), Lee v. Weisman (USSC 1992);   Santa Fe Independent School District v. Jane Doe (USSC 2000).
Find great resources in our
---