Hundreds of girls named "Unwanted"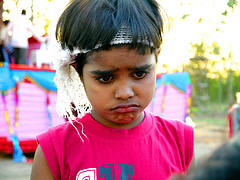 Yes, this is true. In India, sons are favored over daughters. This is because of the expense in marrying off a daughter. In addition to elaborate weddings, custom dictates that a girl have a dowry in order to be legally married. A dowry is defined as a gift of money or property that a woman brings to her husband or husband's family in marriage. Many families come to depend on this for their survival and living standards. The demand for additions to the dowry even continues after the couple's wedding. This places the bride's family in considerable debt.
Because of this practice, girls are often named at birth "Nakusa" or "Nakushi." This is Hindi meaning "unwanted."  They go through school with this name and must cope with the harassment and discrimination that accompanies this status. The girls often feel worthless and a burden to their families. This issue came to the attention of many as a result of the 2011 Census report in India. It was noted that the ratio of girls to boys had dropped significantly. Even hospitals under report the births of girls or abortions of female fetuses.
Dr. Bhagwan Pawar is a health official in the Satara district. She said that "Nakusa is a very negative name as far as female discrimination is concerned." Dr. Pawar decided to hold a renaming ceremony for some of these girls to help restore their dignity and lessen the discrimination against them. In October, 2011, 285 girls received certificates indicating their new names. Some chose names after Bollywood stars, others more traditional names meaning "prosperous, good or beautiful."
This is such a problem in India that "dowry deaths" are common. Thousands of girls die every year from suicide or killings if they bring shame on the groom's family by failing to pay the dowry.
Here is an article from a youth-oriented website in India.
Find great resources in our
---