Is "Rest in Peace" on a t-shirt disruptive?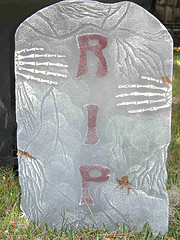 In 2008, Julius Robinson was shot and killed in Omaha, Nebraska. One of his close friends, Nick Kuhr, designed a t-shirt memorializing the loss. The shirt read "Julius R.I.P." Nick, his sister Cassie and roughly two dozen classmates wore the shirts to school. They were instructed to either turn them inside out or remove them.
The students who didn't comply were suspended from Millard South High School. The school explained that since there was some indication that the shooting was gang-related, prohibiting the shirt was a safety precaution. However, Nick's brother, Dan, had worn the same shirt to a different school in the same school district without incident. The Kuhrs and their mother filed a lawsuit against the school district and superintendent in 2009. They claimed a violation of their right to free speech and expression at school. After two years of wrangling over various issues, a federal court cleared the way in November, 2011, for the case to go to trial. The district's motion to dismiss and for judgment in their favor was denied. The case went to the jury in April, 2012. On April 13, 2012, after deliberating more than eight hours, the jury found in favor of the school regarding Nick Kuhr and his brother, Dan. The jury was unable to reach a verdict in Cassie Kuhr's case and the prosecution may request a new trial. Cassie wore a bracelet to school with the R.I.P. message and "Julius" written on her hand. Her brothers may appeal the rulings against them.
In May, 2012, Nick and Dan Kuhr decided not to appeal the court's ruling. They were satisfied with the jury's finding regarding their sister and wish to move on.
What do you think? Did the t-shirt constitute ". . . a respectful display of their feelings for a fallen friend" as the plaintifff's lawyer has stated? Or did the school act properly in preventing a disturbance on campus and possible gang violence? The Supreme Court's decision in Tinker in 1969 set the standard for determining the propriety of student speech at school. The Court approved the wearing of black armbands to school as a symbolic act–a "silent, passive expression of opinion" unaccompanied by any disorder. Isn't the t-shirt in this case a similar expression?
Photo by Tammra McCauley (Flickr)
Find great resources in our
---