Is it against the law to fight?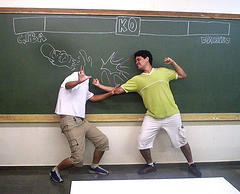 Your everyday spat between siblings isn′t against the law. But if the argument escalates and someone is injured, you've probably broken the law. Fighting is referred to by different names, depending on the incident and whether injuries occur. Assault, disorderly conduct, or disturbing the peace are terms often used to describe an exchange of words or blows with another person.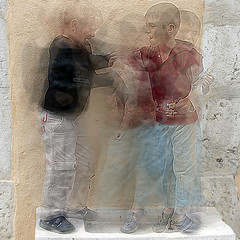 Let′s say you′re at home after school, and your sister walks in wearing your new shoes. She didn′t ask to borrow them, and now they′re scuffed up. You start yelling at each other, and you get angrier when she argues that you do the same thing with her clothes. You grab the TV remote control, throw it, and it hits her on the head.
This is an example of a verbal fight that turned into an assault. You weren′t threatened by your sister, so you can′t claim self-defense. If you′re the aggressor and made the first contact, you may be charged with assault.
Assume that this confrontation lasts for a while or goes on all night. Your father is home, he′s unable to control the two of you, and he becomes increasingly upset over the situation. Your acts have disturbed your father′s peace and quiet. Both you and your sister could be charged with disorderly conduct.
You′re a victim of disorderly conduct if someone near you disrupts your peace by fighting, exhibiting violent behavior, swearing, or making loud noise. Or you could get involved in an after-school fight behind the gym or under the bleachers. Mutual combat—in which you and another person or persons agree to fight—may be disorderly conduct or a violation of a local law.
It′s clearly against school policy, requiring you to face disciplinary action by the school. If you′re trained in boxing or the martial arts, your level of proficiency may be considered by the court and could increase any consequences imposed, depending on the circumstances of the case.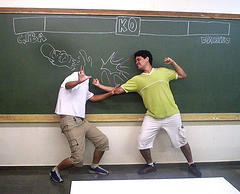 Random fighting takes place on school grounds from elementary school through the twelfth grade. In 1996, a three-year-old schoolyard bully in Boston was ordered by a judge to stop hitting a classmate and was told that if he continued hitting, he could face a fine or jail. Kids are resorting to violence more often when faced with a challenge. A wrong look or comment, offensive colors or styles of clothing, or unintentional contact with someone in the hall may spark a confrontation.
Many schools and communities now offer classes in conflict resolution. If your school doesn′t offer this kind of program, see if you can help set something up. Trained professionals are available in most communities and may be willing to speak to students and teachers. Check with your local police department or domestic violence shelters for more information.
If you are exposed to domestic violence in your home or are the victim of domestic violence, seek help immediately. If you have no one to turn to and don't know what to do about it, call the national Domestic Violence Hotline at 1-800-799-7233.  Don't expect things to get better by themselves – the abuser needs help and you need to be safe.
Find great resources in our
---