Is smoking incense like K2 or Spice legal?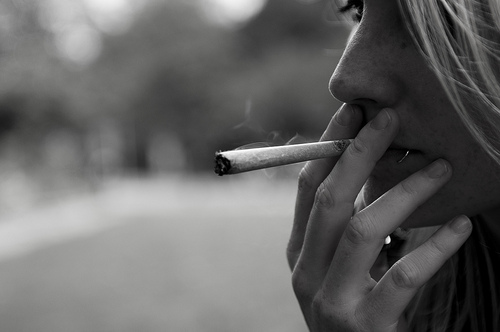 Synthetic cannabis or marijuana has become a popular item online and in smoke and head shops across the country in recent years.  However, the rising trend of smoking what has been considered "legal weed," has gotten the attention of state legislatures which are considering the legality of this substance.
What is K2 and Spice?
Synthetic marijuana is a mixture of dried herbs, spices and flowers sprayed with synthetic or chemical compounds similar to the THC (tetrahydrocannabinol) found in marijuana and sold as incense.  It is often sold under the brand names K2, Spice, Genie, Fire  'n Ice and many other names.
Smoking incense produces a high similar to that of marijuana, but unlike marijuana, the cannabinoids creating the high in incense come from a lab and not the ground.  Reportedly, unless specifically testing for K2, it is not traceable in drug tests.   
 Possible Consequences for Smoking Incense
K2 and Spice have been a popular substance for those wanting to get high legally.  However, users should know that states are cracking down on the herbal incense.  Laws have been passed banning synthetic marijuana or K2 and Spice in a dozen states including Alabama, Arkansas, Florida, Georgia, Illinois, Kansas, Louisiana, Mississippi, Missouri and Tennessee.  These states have made synthetic pot a controlled substance and therefore illegal.  The possible consequences for violating these laws range from being charged with a misdemeanor to a
felony
 and possibly facing jail or prison time. Although smoking incense is legal under federal law, the Drug Enforcement Administration (DEA) has classified it as a "drug or chemical of concern."*  In addition to the states listed above, many cities and counties have criminalized its use making it illegal to smoke or possess.  States currently considering legislation to ban synthetic marijuana include Indiana, Michigan, New Jersey, New York, Ohio, West Virginia and Pennsylvania.Arizona passed a law in February, 2011, making possession, sale and manufacturing Spice a
class two felony 
that carries a minimum four-year prison term. Incense also has been banned throughout most of Europe.
Effects of Synthetic Pot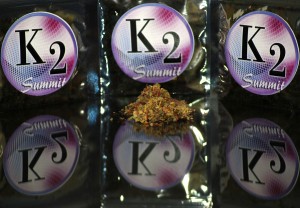 In large doses, some effects of herbal incense have been seen that typically are not seen in marijuana users.  These include increased agitation and vomiting.  Although official studies on the effects of synthetic cannabis have yet to be conducted, several cases show possible harmful effects including serious damage to the lungs (much more than tobacco), addiction and withdrawal symptoms, hallucinations, loss of consciousness and even psychosis.
Some believe that K2 is more dangerous than marijuana as some research (not official studies) has shown that the chemical compounds in K2 are 3 to 5 times more potent than the THC found in marijuana.  The professor who first discovered  some of the synthetic cannabinoids used in K2 and Spice, Professor John W. Huffman, has stated that incense "has not been tested on humans and could have toxic results.  It should not be used as a recreational drug."  Since the start of 2010, the American Association of Poison Control Centers has received almost 2,000 reports of people who became ill after smoking K2 compared to a dozen in 2009.
Find out more information about drugs and your body as well as teen drug abuse or find a drug treatment center near you.
Update: 
In October, 2011, 13 year-old Brandon Rice of Pennsylvania passed away after months of hospitalization including a lung transplant. He smoked K2 and burned his lungs severely. The doctors did all they could but too much damage had been done and his body rejected the new lungs.
In November, 2010, a 29-year-old by the name of Zachary Snow ran two red lights in Arizona and crashed into three cars before coming to a stop. He climbed out through the sunroof of his car and ran. He was caught in a nearby bagel shop. He claimed he didn't remember the incident because he had ingested spice just before driving. He was arrested and taken to jail on several charges: leaving the scene of an injury collision and driving while impaired. There were no serious injuries from this incident.
In December, 2010, stand-up comedian Travis Lipski admitted smoking K2 before driving. The 39-year-old crashed into three pedestrians and hit several cars and a produce truck near Pike Place Market in Seattle. He was charged with vehicular assault and jailed with a $75,000 bail. A field sobriety test indicated Lipski was under the influence. Blood tests will identify exactly what drugs were in his system at the time.
In February, 2011,  problems with Spice were reported at the U.S. Naval Academy in Maryland. A four-month investigation resulted in the expulsion of eight midshipman with the probe ongoing. The drug became popular at the Academy because it can't be detected in routine drug tests. Although not against the law in Maryland, the Academy has a zero-tolerance policy for possession and use of Spice.
Update: In a twist on help for smokers, Hawaii has become the first state to raise the legal age to obtain cigarettes, including electronic cigarettes, to 21. The law goes into effect January 1, 2016. Definitely a move in the right direction.
5 Chemicals in Spice and K2 Now Illegal under Federal Law
*In March of 2011, the federal government banned the following five chemicals used in K2 and Spice: JWH-018, JWH-073, JWH-200, CP-47,497, and cannabicyclohexanol. These chemicals are now considered a schedule one controlled substance, which means they are placed in the same category as heroin under federal law. However, developers of synthetic marijuana are coming up with new strains which do not include the banned substances, therefore, making them legal under the current federal law. These strains have been reported to be even stronger and have led to a number of overdoses and calls to the ER for severe side effects.
A report by lead author Dr. Joanna Cohen, published in Pediatrics in March, 2012, listed symptoms of synthetic marijuana use as excessive sweating, agitation, inability to speak, restlessness and aggression. "Euphoric and psychoactive effects" that are associated with marijuana use were also named. The American Association of Poison Control Centers reported handling 6,959 calls in 2011 related to synthetic marijuana, more than double the number in 2010.
Find great resources in our
---