"Islam is of the Devil" is not protected speech at school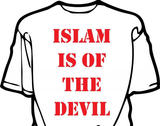 Public schools are not considered public forums where anyone can write, say or act as they please. There are limits governing speech in all of its forms on a school campus or at a school event. Students aren't free to wear what they want, say anything regardless of what words are used or act in a disruptive or offensive manner. There are many examples on this site of student behavior that's resulted in discipline at school and, in some cases, the involvement of law enforcement.
In 2009, the Alachua County School Board in Florida banned all students from wearing a t-shirt proclaiming "Islam is of the Devil" on the back. The shirt was available through the Dove World Outreach Center in Gainesville, Florida who also posted a sign with the same message on their property. The church gained notoriety in 2011 when their leader announced he would publicly burn the Koran as a protest against Islam. The leader of the small church put the Koran on trial, found it guilty of being a religion of violence and, in fact, did burn it with approximately 50 persons looking on in March, 2010. Deadly protests in Islamic countries followed.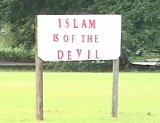 Students who violated the school ban of the t-shirt were sent home and several who wore it to a football game were removed. Seven  students challenged the school's action and filed a lawsuit in federal court. They claimed their right to free expression was violated by the school. In October, 2011 the court ruled in favor of the school.* Judge Stephen P. Mickle ruled that the message was "not conducive to civil discourse on religious issues; nor is it appropriate for school generally." The court found that school officials had "reasonable fear that the t-shirts were likely to interrupt school activities."
Judge Mickle relied on both Tinker and Hazelwood in analyzing the case. Schools, he wrote, are not public forums and speech within these facilities can be regulated for legitimate educational purposes. He acknowledged that the Supreme Court has consistently held that the First Amendment rights of students are not as far-reaching as the rights of adults in public forums.
The school's interest in prohibiting the shirts was to prevent one group of students from attacking another group of students, physically or on the back of a t-shirt. The students may appeal the decision to the Eleventh Circuit Court of Appeals.
*Wayne Sapp v. School Board of Alachua County, Florida (USDC, Florida September 30, 2011)
Find great resources in our
---