Know your rights at school: Can the police question you?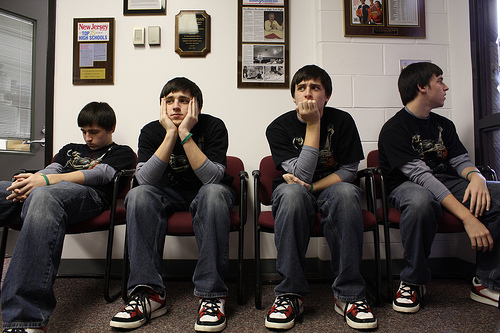 Today the United States Supreme Court will hear the oral argument in the case of J.D.B. v. North Carolina concerning when juvenile Miranda rights* apply in the school environment.
In 2005, a 13 year old special needs student identified as J.D.B. was taken out of his class, escorted to a conference room and questioned by a uniformed police officer. J.D.B.'s grandmother (his legal guardian) was not notified. Officer DiCostanzo was investigating the break-ins of two homes in the area involving a stolen digital camera, a cell phone and some jewelry. He began to question J.D.B. about these incidents . He was not read his Miranda rights and not told at the beginning of the questioning that he was free to leave.
At some point during the interrogation, the officer told J.D.B. that he didn't have to talk and that he could leave. The officer then said he wanted the kid to listen to what he had to say. J.D.B. then confessed to stealing the camera. He was charged with two counts of breaking and entering and larceny (theft). His lawyer tried to get his confession thrown out, but the trial judge ruled that he was not in custody when interviewed by the police and therefore, his rights weren't violated. J.D.B. appealed his case all the way to the Supreme Court.
The issue the Court will have to decide is whether J.D.B. was "in custody" when questioned and entitled to his Miranda warnings before being questioned. In other words, was he being detained by the police or was he free to go. J.D.B.'s argument in his petition to the Court is that age should be considered when determining whether a person was in custody and if they felt free to leave. "Children are not the same as adults" and they "are more susceptible to police coercion than adults."
*Miranda rights:  These are the warnings suspects, including juveniles, are read when in police custody.  You have the right to remain silent; to have a lawyer appointed to represent you; if you cannot afford a lawyer, one will be appointed for you; and any statement you make may be used against you in court.
Update:  The U.S. Supreme Court decided the case on June 16, 2011. They ruled 5 to 4 that J.D.B.'s rights were violated and that the police should have taken into consideration his age before questioning him. If you recall, the Miranda case (1966) outlined certain warnings that law enforcement is required to give persons who are "in custody" before questioning them. In 1967, those warnings were extended to minors who are questioned by the police (In re Gault). Now, the police must add "age" as a factor in determining if the juvenile understands whether he or she is in custody and has the right to remain silent.
Find great resources in our
---