"Life as a gay teenager" censored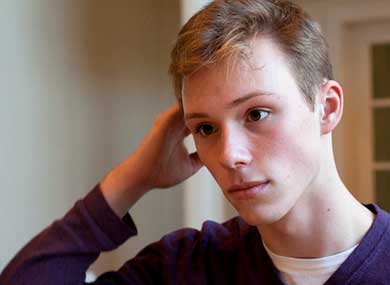 A column with this title was written by Sean Simonson for his high school online newspaper. Sean is a senior  at Benilde-St. Margaret's School in Minnesota. The private preparatory school pulled the article and stopped the comments several hours after it was posted due to opposition to its content.
We'll let you decide if Sean's article is offensive or a legitimate discussion about a serious subject. Sean was prompted to write this in response to recent stories of gay-bashing at school and the tragedies of Tyler Clementi and others.
Sean commented that  "There's so many suicides in the news. And I felt very frustrated that my voice couldn't be heard, and that there were all these things that I see as injustices all the time that I didn't feel like anyone else was recognizing."
The school explained that the article created "a disrespectful environment as well as confusion about the teachings of the Catholic Church." No law was broken by the censorship since the school is private and doesn't receive federal funds.
The question remains, however, whether shutting down the discussion was the best way to handle the subject or was there a better way to promote understanding and tolerance in this regard?  The school's president said that the Catholic Church teaches that "men and women with homosexual tendencies must be accepted with respect, compassion, and sensitivity." 
Although mishandled as some would argue, class discussions were held during the days following the censorship. The opportunity to discuss gay issues and life as a gay teen did occur.
Here is Sean's essay:
"Life as a gay teenager"
I have considered suicide. Yes, I have considered taking my own life. Unlike six other boys recently in the news, I never took the steps to follow through on my dark thoughts, but, unfortunately, I can understand what drove them to. Because I know what it's like to be a gay teenager.
Imagine going through adolescence: hormones raging, body changing, and relationships that go a little deeper than friendship developing. Now, add on being gay.
Don't believe being different is difficult? Try going through a day in the life of a gay teen.
Every day you hear someone use your sexuality — a part of you that, no matter how desperately you try, you cannot change — as a negative adjective. That hurts.
You fear looking the wrong way in the locker room and offending someone. Politicians are allowed to debate your right to marry the person you love or your right to be protected from hate crimes under the law. Your faith preaches your exclusion — or damnation. And no one does anything to stop it.
Recently, the Archbishop used money donated by an anonymous source to denounce same-sex marriage. That's right: a major religious leader used non-Church money from a questionable source to publicly condemn your right to express your love in a public and binding manner.
A public school district nearby — after a wake of suicides by kids much like yourself — cannot bring itself to put your protection from bullying into its policies. Members of the district fear your kind and how you might brainwash their children into thinking that your behavior is appropriate or to join your kind.
A political party makes its position denying your right to marry one of its main voting points. And your nation voted this party in office.
You cannot legally give blood to save a life, nor risk your life to defend your country unless you hide your identity and deny who you are.
Oh yeah, and the words "queer," "homo," and "faggot" that people throw around all the time? Yeah, those might as well be personal attacks.
This is daily life for me. And I can understand why, if you are gay like me, you might consider ending it all. But I hope you don't.
Why? Because without you, who is going to make it better for everyone else? Without you, no one is going to stand up against the injustice. I need you to help me make this world a better place for both of us and everyone else like us.
And all of you who don't have to undergo this horror daily, it's up to you to help. Don't stand by and let hatred go on. Don't sit back and watch your friends be discriminated against. Reach out and help those who might need it.
Together, maybe we can make the world an easier place to live for gay and straight teens alike. Because no one else is going to do it for us.  (emphasis added)
What do you think of this being included in a school newspaper, whether hard copy or online? Does that even make a difference? Sean was both praised for his courage in writing this piece and criticized  for speaking out. How do you feel about this article?
Find great resources in our
---