Mean girls target 13-year-old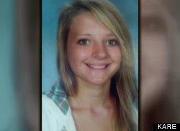 "Words hurt. Words can kill." These are the words of Mary Ehmke, the mother of 13-year-old Rachel Ehmke. Rachel was described as outgoing, athletic and friendly, but others at Kasson-Mantorville Middle School in Minnesota saw her differently.
It started in the fall of 2011. Reportedly, Rachel had never kissed a boy, but a group of girls referred to her as a prostitute. "Slut" was written across her gym locker. In April, 2012, someone who wasn't a student at the school sent an anonymous text to Rachel's classmates encouraging them to get her to leave the school. The message was explicit and stated "forward this to everyone you know."
Rachel's father became aware of the bullying but she pleaded with him not to contact the school for fear of worsening the situation. Two days later, Rachel hung herself. Her parents found a note saying "I'm fine = I wish I could tell you how I really feel," alongside a picture of a broken heart.
The case is under investigation but Rachel's parents aren't asking for anyone to be prosecuted. "They're kids. They made some horrible decisions. If these kids would've known this would happen, I'm pretty sure they never, ever would have done what they did. Sadly enough, . . .they will carry this bag their whole life," commented Rick Ehmke, Rachel's father. A month later, local teens and twentysomethings organized a Walk for Rachel. The Ehmkes participated and pledged their ongoing support to educate others about bullying and suicide.
We all must think about the consequences of our actions: speech and writings including emails, text messages, chat room comments and tweets. As Rachel's mom said, words do hurt and can be fatal. Think B4 U Post.
Find great resources in our
---