New poll indicates "sexting" is common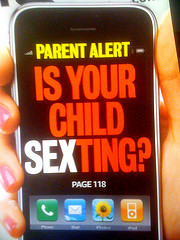 The practice or trend of sharing naked or semi-naked pictures on the Internet or by cell phone is not a rare event. A September, 2009 poll of over 1,000 young people (ages 14 to 24) shows 30% were involved in some type of sexting.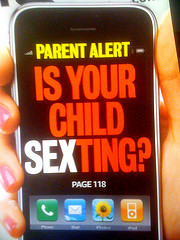 Those surveyed responded to questions about receiving messages with sexual words, receiving naked pictures or videos of themselves or someone else, or participating in a webcam chat while viewing someone performing sexual acts. One third of the young adults have been involved with sexting compared with one fourth of the teenagers.
Scientists believe that teen brains are more vulnerable to peer pressure. Emotional arousal develops first followed by teasing. Many of the teens in the survey didn't see sexting as a problem. Those that did, sexted anyway knowing there could be consequences.
Teens in Florida, Indiana, Ohio and Pennsylvania have suffered serious consequences including criminal prosecution.  In at least two instances, sexting has lead to suicide.  Read about Jessica Logan and Hope Witsell, age 13, on this site.
Sexting is not limited to the United States. It is a global phenomenon that requires worldwide attention. A 2011 study in England, for example, reports that 40% of 11,000 children surveyed thought it appropriate to circulate pictures of topless girls in their school. The students surveyed were between 11 and 14 years old!
Update: A study released in December, 2011 by Pediatrics, found only 1% of children between the ages of 10 to 17 had created sexually suggestive images in the past year. A University of Michigan study reported that sexting may be more prevalent among young adults.
Find great resources in our
---