President speaks at high school graduation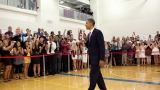 On Monday, June 7, 2010, the graduating class at Kalamazoo High School in Michigan had a special commencement speaker.  President Barack Obama addressed the 280 graduates before congratulating each student as they received their diplomas.
The tone of the President's speech emphasized personal responsibility and his buck-stops-here philosophy.  He referred to his own youth and told the class that he didn't truly understand the value of perseverance when he was their age.  His message speaks for itself:
"Sometimes I was rebellious.  Sometimes I partied a little too much.  But after a few years, after I was living solely on my own, I realized living solely for my own entertainment wasn't so entertaining anymore–and it wasn't particularly satisfying anymore."
The President tied his message to current events when speaking of the importance of being responsible.  "We've got an economy to rebuild, children to educate, diseases to cure. We've got threats to face; we've got an oil spill to clean up. . . .It's the easiest thing in the world to start looking around for someone to blame. . . .Don't make excuses.  Take responsibility not just for your successes.  Take responsibility where you fall short as well."
Referring to his own ups and downs during his 17-month-old presidency, he told the students they would also have their share.
"The truth is, no matter how hard you work, you're not going to ace every class.  You're not going to succeed the first time you try something.  There will be times when you screw up, when you hurt the people you love.  There will be times when you make a mistake and you stray from the values that you hold most deeply."
This was the President's first speech to a high school graduation class as President.  Kalamazoo High School was chosen from more than 1,000 applicants through his Race to the Top education initiative.
The First Lady, Michelle Obama, also addressed a graduation class in June. She spoke at Anacostia Senior High School in Washington, D.C., a school described as one of the most troubled in the area. Mrs. Obama told the class:  "I imagine that for some of you all, getting this far hasn't been easy. Perhaps there were those who wanted to write you off, maybe because of assumptions they made about you or your school or your community. But every day you're proving them wrong. You're proving that it doesn't matter what anyone else thinks about you or what you can achieve. The only thing that matters, rather, is what you think about yourself and what you're willing to do to achieve your goals. That's all that matters. How hard are you willing to work, how big are you willing to dream?"
Mrs. Obama finished her remarks by telling the students:  "And listen, graduates, the reason that he [President Obama] and I invest so much of our time and energy in young people like you is because we see ourselves in each and every one of you."
Find great resources in our
---