Prom dresses and tuxedos – what's all the fuss about?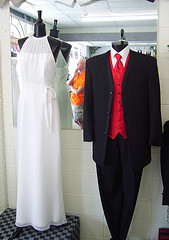 Do you think public school dress codes should prohibit girls from wearing tuxedos or boys from wearing dresses to the prom?
There have been several challenges to these restrictions over the past ten years. In 1999, an Arlington High School senior succeeded in getting a court order allowing him to wear a dress to the prom. In 2006, a transgender student was turned away at the door of his West Side High School prom because he was wearing a gown.
In March, 2009, a 17-year-old senior at Lebanon High School in Indiana sued her school when she was told that she couldn't wear a tuxedo to her prom in April. She is a lesbian and doesn't wear dresses. Her attorney said that "wearing a tuxedo makes an affirmative statement about her own sexuality."
It is well established that students have free speech rights. Does that include the freedom to express yourself  by dressing as the opposite gender? What do you think of gender-based prom dress codes? Would this have become an issue if she was heterosexual and wanted to wear a tux to the prom?
A few weeks later, the school reversed its tuxedo policy. They stated that all students are to wear appropriate formal attire with no gender-based requirements imposed.
Find out more about gay students' rights.
Find great resources in our
---