Pulitzer Prize winner supports Dream Act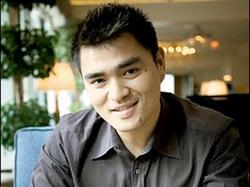 When Jose Vargas was 12 years-old, his mother in the Philippines sent him to live with his grandparents in California. It wasn't until Jose was 16 years-old and applied for a driver's license that he discovered his illegal status as an undocumented immigrant.
Jose did well in school and earned the trust of his principal and district superintendent. Together they mentored Jose and found a scholarship fund for high-achieving students. Upon graduation from San Francisco State University, he interned at several newspapers including the Washington Post.
Jose's status was kept a secret for almost 20 years. In 2008, he won a Pulitzer Prize for his coverage of the Virginia Tech massacre in 2007.* When Jose left the Washington Post, he decided to go public with his secret. In a New York Times Magazine essay, he wrote "I'm done running. I'm exhausted . . .I don't want that life anymore." Read Jose's article and amazing story here.
Jose now plans to push Congress to pass the DREAM Act (Development, Relief and Education for Alien Minors) whereby people like him who either go to college or serve in the military, may apply for full U.S. citizenship. Consider the case of Angelica Hernandez who graduated from Arizona State University in May, 2011 with high honors and a degree in mechanical  engineering. She was the class valedictorian and came out as an undocumented immigrant from Mexico. She is an admitted 'Dreamer' who looks to the future and becoming an American citizen.
Several states have passed legislation requiring schools to report the immigration status of students. Legal challenges are underway and the U.S. Department of Education and Justice Department issued a joint letter reminding school districts that they are required to provide all children equal access to public education. The 1982 U.S. Supreme court case Plyer v. Doe* held that undocumented students have a constitutional right to attend public elementary and secondary school for free.
*472 U.S. 202 (1982) For a review of the Plyer decision and its legal impact on school districts, click here.
Find out more about the Dream Act.
Watch the video below for comments from Angelica at her graduation in 2011 from Arizona State University.
Find great resources in our
---