What are my rights as a LGBTQ teenager?
The law doesn′t distinguish between gay, lesbian, bisexual, heterosexual (straight) or transgender teenagers. The rights and protections provided are equally applicable to all groups, whether at home, school, or work. A violation of your rights due to sexual orientation amounts to discrimination, but that doesn't mean, in every situation, there's a remedy for discriminating. For example, a private club or organization may exclude individuals from membership or participation.
In April, 2012, a den mother in Ohio was relieved of her duties because she's gay. The Boy Scouts of America have an oath that calls for members to be "morally straight." As a private organization they can exclude gays and atheists. Jennifer Tyrell was her first-grade son's den mother after being recruited for the position in 2011. She was upfront about her sexual orientation without objection by any of the parents. A fellow pack leader complained and Boy Scout headquarters in Texas relieved her of her post. Parents demonstrated their support of Jennifer by organizing a protest outside the church where the pack held its meetings. A petition drive is underway to get the Scouts to change their policy. Update: On May 23, 2013, the Boy Scouts voted to end their ban on openly gay youth as members. Then in July, 2015, the Scouts ended the national ban on gay adult leaders effective immediately. However, they left the decision to local religious organizations who sponsor scout troops to decide their own hiring practices.

Regarding your education, your rights begin with the basic right to attend public school. You may not be excluded from enrolling or attending school because you′re gay, lesbian, or bisexual. You have the right, as all students do, to be treated fairly. Your constitutional freedoms of expression and association are fully protected while at school. In August, 2013, California became the first state to grant public school transgender students certain rights. This includes the rights to choose which restroom to use and whether to play boys or girls sports. Other states including Washington, Colorado, Massachusetts and Connecticut have school districts that have policies regarding the treatment of transgender students.
If you′re a straight teenager, here are a few things you should keep in mind about homosexuality:

Don′t assume that someone is gay or lesbian because he or she "looks" gay or lesbian. Ask yourself: "What does that mean, anyway? Where do I get my ideas about how homosexuals look?" And don′t assume that someone isn′t gay, lesbian, or bisexual because he or she doesn′t "look" it.
Just because you have feelings about a same-sex friend doesn′t mean you′re gay, lesbian, or bisexual. And just because a gay or lesbian friend has feelings about you doesn′t mean he or she wants or expects anything more than friendship.
Some people seem to think that all gay men and lesbians are attracted to all heterosexual men and women. Ask yourself: "Are all straight women attracted to all straight men, and vice versa?"
Don′t assume that someone who′s gay, lesbian, or bisexual wants to "recruit" or "convert" others to homosexuality.
This means you′re free to socialize with whomever you choose or date whomever you like. You are free to write for the school paper, distribute leaflets, wear buttons, or demonstrate—as any other student is able to do. You may join or start school clubs and attend social functions, including dances. The law forbids any discrimination by extracurricular clubs or organizations.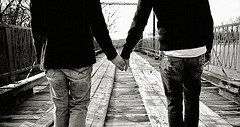 Displays of affection on campus may be restricted, but such restrictions must be applicable to all students, gay and straight alike. Under the Tinker test,* your activities at school may be restricted only if they disrupt the normal routine of the school or interfere with school discipline.
On the home front, your parents′ obligation to provide for you doesn′t change or end because of your sexual orientation. They can′t throw you out of the house or declare you emancipated because you′re gay. Their authority over you continues, just as your responsibility to obey them continues. If you and your parents are unable to agree on or discuss these issues of sexuality, family counseling should be considered.
Your rights at work may also be protected. Although no specific federal law prohibits employment discrimination based on sexual orientation, you may assert your due process, equal protection, and First Amendment rights. State employment laws may also support these rights.
In December, 2011, Secretary of State Hillary Clinton addressed world diplomats in Geneva, Switzerland. She bluntly warned the world against gay and lesbian discrimination. She said a country's cultural or religious traditions are no excuse for discrimination. "Gay rights are human rights, and human rights are gay rights. It should never be a crime to be gay."
Another area where the debate about sexual orientation continues is the military. Gays, lesbians, and bisexuals are in the armed forces, and they continue to serve their country. Since 1993, new recruits are no longer asked about their sexual orientation. This question was removed from the enlistment form, along with questions regarding past sexual conduct. The policy today is "Don′t ask, don′t tell"  [DADT].  However, if the military finds out that you′re gay, you′re likely to be discharged. This policy may change under President Obama as promised during his campaign. (see Update below).
In March, 2010, the Pentagon, short of abolishing the Don't Ask, Don't Tell policy, changed the rules in favor of gay personnel. More than 25 of America's allies, including Britain, Australia, Canada, Israel, the Netherlands and Sweden have open militaries.  The transition to allow gays in the military in those countries has been described as a non-event.
In June, 2009, President Obama took the first step toward greater equality for the gay community. He signed a Memorandum extending visitation (or dependent-care) benefits to same-sex partners of federal employees. States decide individually if they will do the same. Gay activists continue their effort to abolish the "Don't Ask, Don't Tell" policy, and gain health insurance and survivor benefits for their partners.
Update: On December 22, 2010, DADT was repealed. President Obama stated when signing the bill that "Our people sacrificed a lot for their country, including their lives. None of them should have to sacrifice their integrity as well."  Approximately 13,000 military members were discharged during the 17 years of DADT. Some are now expected to re-enlist.
Freedom of speech does not quiet those with opposing views to LGBT rights. In March, 2011, the 7th Circuit Court of Appeals in Chicago ruled in favor of a student at Neuqua Valley High School who wore a shirt with a message critical of homosexuality. Heidi Zamecnik wore a "Be Happy, Not Gay"  T-shirt to school in 2006. She was told to change her shirt or go home. In upholding her right to express her views, the court stated "A school that permits advocacy of the rights of homosexual students cannot be allowed to stifle criticism of homosexuality." The day before Heidi wore the shirt, the school participated in a "Day of Silence" to protest LGBT harassment.
Point of Interest: In 2009, President Obama appointed Amanda Simpson, the first openly transgender person, to the Commerce Department as a senior technical advisor. She was reposted to the Pentagon in 2011.
*Tinker v. Des Moines Independent School District, 393 U.S. 503 (1969).
Take a look at this article written in July, 2011 about one person's trip to Thailand and the efforts of a school to deal with transgender students.
FYI – Here is a list of organizations that provide information, counseling and support for gay and lesbian teens and families. Don't hesitate to seek help when needed.
The Trevor  Project                                                                                                                                                                                                                      A 24/7 lifeline for lesbian, gay, bisexual, transgender and questioning youth and suicide prevention support.    www.thetrevorproject.org                                                                                                                                                                                                                                          1-866-488-7386

Gay, Lesbian and Straight Education Network  (GLSEN)                                                                                               Resources and support for students to help create a more welcoming climate at school and reduce bullying. www.glsen.org                                                                                                                                                                                                               

Lambda Legal Defense and Education Fund
120 Wall Street, Suite 1500
New York, NY 10005
(212) 809-8585
www.lambdalegal.org
Information and referrals regarding issues of sexual orientation.

OutProud! The National Coalition for Gay, Lesbian, and Bisexual Youth
www.outproud.org
Resources for teens and schools, recommended reading, links, and more.

Parents and Friends of Lesbians and Gays (PFLAG)
1726 M Street NW
Suite 400
Washington, DC 20036
(202) 467-8180
www.pflag.org
Information and referrals to affiliated support groups and resources around the country.

Advocates for Youth

2000 M Street NW, Suite 750

Washington, D.C. 20036

202-419-3420

Helps young people make informed and responsible decisions about their reproductive and sexual health.

Gay Straight Alliance Network

1550 Bryant St., Suite 800

San Francisco, CA 94103

415-552-4229

A student-led organization that helps youth fight homophobia at school, including the formation of GSA clubs on campus.

Hetrick-Martin Institute

Home of the Harvey Milk High School for LGBTQ youth between 12 and 21. Provides direct services and referrals in support of a supportive environment.

Human Rights Campaign

1640 Rhode Island Avenue NW

Washington, D.C. 20036

202-628-4160

Grassroots organization in support of equality for all LGBTQ people.

Lifeworks at the L.A. Gay and Lesbian Center

323-860-7373

Comprehensive services for the LGBT community, including a transitional living program for homeless youth.

Youth Guardian Services

A youth-run organization that provides support services on the Internet to LGBTQ and straight youth.

Youth Resource Website

Website for LGBTQ youth to safely explore sexuality and issues of concern to the LGBTQ community.

For counseling & services in England, call: 08000 502020 This is the Stonewall website: tp://www.stonewall.org.uk/

You can also contact local gay, lesbian, and bisexual organizations and hotlines, and ask them about teen support groups and social organizations.
Find great resources in our
---