Should senior Emma Sullivan apologize to Governor Brownback?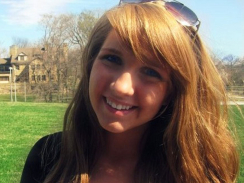 Emma Sullivan was attending a Youth in Government event in Topeka, Kansas last week. Governor Sam Brownback was addressing the group when Emma tweeted to her followers:  "Just made mean comments at gov brownback and told him he sucked, in person #heblowsalot." Although the tweet went out to her 65 followers, Emma didn't actually say these words at the event or to the governor. However, the governor's staff discovered the tweet and reported it to the program and Emma's principal.
Emma, age 18, explained that she disagreed with Brownback, particularly his decision to veto the Kansas Arts Commission's entire budget. This made Kansas the only state in the nation to eliminate arts funding. The governor supported funding through private donations rather than state dollars.
The principal of Shawnee Mission East High School ordered Emma to write a letter of apology for her disrespectful tweet. Emma responded that she wasn't sorry and that "I don't think I should write the letter, and I don't think it would be the best move for me. At this time, I do not think an apology would be a sincere thing for me to do."
She was told to write the letter by Monday, November 28, 2011. "I hope there won't be any consequences and that my principal and the governor's office can move on," she said. "The issue is relevant and, if anything, is a starting point of dialog with the governor about his policies and how our First Amendment rights can be taken away."
Emma hasn't heard directly from the governor or his staff but is willing to sit down and have a discussion with him. "I think it would be interesting to have a dialogue with him," she said. "I don't know if he would do it or not though. And I don't know that he would listen to what I have to say."
Do you think Emma owes an apology to the governor for her tweet? Although sent to her followers on Twitter, was her privacy violated when the governor's staff found the tweet and acted on it?
Update:  Monday arrived and Emma didn't write the letter to Governor Brownback. Instead the governor's office issued the following statement:
"My staff over-reacted to this tweet, and for that I apologize. Freedom of speech is among our most treasured freedoms. I enjoyed speaking to the more than 100 students who participated in the Youth in Government Program at the Kansas Capitol. They are our future. I also want to thank the thousands of Kansas educators who remind us daily of our liberties, as well as the values of civility and decorum. Again, I apologize for our over-reaction."
During school on Monday, not all students supported her action. Emmy was bullied and told to change schools. Emma commented "It is just bullying, and I'm trying not to take it to heart because that's what they want me to do. I'm getting a lot of negative attention locally, and that's a lot to deal with. The students at my high school are being really bad about the situation – it just sucks that they don't support me at all in any of this." She took Tuesday off to let things die down.
Read more: http://www.politico.com/news/stories/1111/69340.html#ixzz1fFr9HcJ0
No further action was planned by the school. Glad you stood your ground, Emma. Had this gone to court, we think you would have won. Avoiding litigation, however, is the better route considering the time, expense and emotions over the years before a final resolution is reached. We're sorry to hear about the bullying at school by those who don't understand or appreciate the meaning of the First Amendment and the importance of taking a position on important issues.
Find great resources in our
---