"So when does basketball season start?"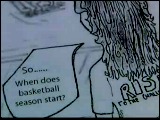 Alejandro Teran is a cartoonist for the Bernalillo High School newspaper The Basement. In November, 2011, he submitted a drawing about the high school's football team and its poor performance this season (3 wins and 7 losses). The student's cartoon depicts two female students watching a Bernalillo football player getting tackled. One says to the other "So when does basketball season start?"
The school principal kept the cartoon from running in the paper. He explained that it offended the paper's mission by downgrading students and putting students against each other. Alejandro responded that he "wasn't trying to point out anything that wasn't already known. You go around the school and hear left and right that our football team is not doing well. I mean, it wasn't a secret."
Alejandro showed the cartoon to administrators before he submitted it. He also ran it by some of his friends who were on the football team and didn't receive any negative responses. Once word got out that the cartoon was censored, students were surprised by the school's action more than the content of the cartoon itself.
The school turned the incident into a learning experience by hosting a debate on the subject of free speech. The three-judge panel came down on the student's side but this didn't change the principal's position. The school doesn't have a publications policy at the moment and may consider adopting one in the future. The Student Press Law Center has submitted a model student media policy for their consideration.
Read more about this subject and the states that have student free expression laws.
Find great resources in our
---