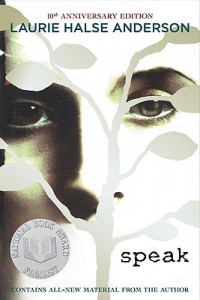 Speak by Laurie Halse Anderson
If living in silence is so easy, why is living with a secret so hard? In this award-winning, ground-breaking story readers are sent in a silent twister of the trials and tribulations of a teenage girl…who has a secret. Repleted with character development, real problems that teenagers deal with every day, tantalizing author, and written in rigorous, poem-like form. Speak by Laurie Halse Anderson revolves around Melinda, a fifteen year old girl that was sexual assaulted during a party, causing her to go mute.
Although the book is narrated by Melinda, there are many characters that are more complex than their surface appearance. Melinda begins the book as a teenager, who is an outcast at her school and tries to isolate herself from her parents and ex-friends, with great success. Near the end of the book, Melinda blossoms into a mature, young woman that faces her fears. Mr. Freeman is first described by Melinda as "A man with a grasshopper frame…with a credit card nose," a deranged art teacher. But with each art class, Mr. Freeman grows as a father-figure to her over their love of abstract art. Senior Andy Evans, who appears as the boy-next-door (popular, smart, attractive) that strangely shows somewhat interest in Melinda. Andy is referred to as "IT" for an unknown reason. Andy Evans is then revealed as a sinister and mentally disturbed young man who directly hurt Melinda.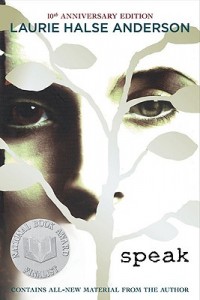 Many teenagers can easily relate to this book, for it has several (and severe) key points. Teen depression is one of major key points. Melinda tries to cope with her depression, but with an over-crowded school and absent parents, no one notice signs such as Melinda gaining weight, wearing dirty clothes, rarely bathing, skipping school, and biting her lip so often that her lips are constantly bleeding. Physical and mental abuse is also put in place. Melinda was physically abused during a late summer party, driving her not to speak for almost a year, and sustaining psychological scars.
Speak is the first of many novels by Laurie Halse Anderson, but has by far received the most awards. Laurie Halse Anderson once quoted in an interview, "Write about the emotions you fear the most." The author has written many books in the teenage girl's view, due to her experiences during high school. Her most recent one goes into the world of eating disorders among teen girls.
What makes Speak stand out is not only the raw topic, unforgettable characters, or the award-winning author is the writing style that makes it incomparable. Melinda is very observant about the world around, so her thoughts, actions, and moods are documented in poem-like form. In some chapters, the words are choppy and short, while some are over-detailed and seemed to have no ending or beginning. The writing, however, keeps you flipping through pages, hungry for what happens next and what Melinda's secret is.
"I wonder how long it would take for everyone to notice if I just stopped talking." Melinda, gradually but eventually, heals. The book ends with Melinda confessing, bit by bit, what happened to her to her art teacher, Mr. Freeman.
Find great resources in our
---