Straight A student denied diploma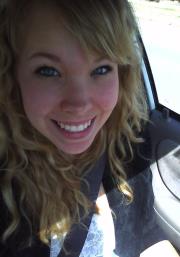 In May, 2012, Prague High School in Oklahoma conducted its graduation ceremonies for the senior class. The class valedictorian was Kaitlin Nootbaar, a straight A student headed to college on a full scholarship. As school policy required, Kaitlin turned in a copy of her graduation speech before the ceremony and it was approved. However, she went off script and changed the word "heck" to "hell." The audience laughed and applauded when she finished.
When Kaitlin went to pick up her diploma in August, 2012, the principal refused to give it to her until she wrote an apology for her speech. Kaitlin refused explaining she did nothing wrong. A Facebook page has been set up urging the administration to back off and give Kaitlin her diploma.
Kaitlin wrote the following about the situation:
"First off, I would like to thank everyone who is backing me on this, especially my friends and family. And to those who don't agree with me, that is fine also. Everyone is entitled to their own opinion and is free to comment however they choose. It's one of the great advantages of living in a free country. A country where we are free to speak. I would also like to note that I do not hate Prague. I have loved that town since I was a child. I don't hate the school either, the teachers have always been great! I don't feel that the whole town should suffer from the mistakes of few. Again, thanks:)"
Her comment came in response to the many times she had been asked what she wanted to do once she finished high school. At first she wanted to be a nurse which changed to a veterinarian. She responded "How the hell do I know? I've changed my mind so many times."
In the meantime, Kaitlin moved into her dorm at Southwestern Oklahoma State University to begin her college career. The school admitted her based on her transcripts and GPA. Her major is marine biology but as Kaitlin says, "Who the hell knows" if that will change or not. After all, she's just a freshman with the whole world ahead of her. Support for receiving her diploma without having to apologize has come from around the world. Kaitlin explains:
"I don't want to because I'm not sorry, so writing an apology letter, that's just going to be a lie. Which if they're saying that my cursing is sinning, that would be another sin, so don't want to have two sins on my hands."
What do you think? Does her use of "hell" in her graduation address to classmates and their families justify holding her diploma until she apologizes to the school community?
Find great resources in our
---