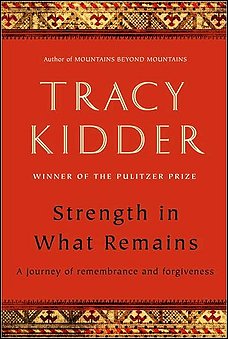 "Strength in What Remains" by Tracy Kidder (Random House, 2009)
Deogratias (Deo) grew up barefoot in Burundi, on the African continent. For a peasant boy, he had done well for himself. He was a medical student and at the top of his class. Due to an eruption of violence in his country in 1994, and the slaughter of thousands in neighboring Rwanda, Deo fled for his life and spent six months on the run.
 He was 24 years old when he arrived in New York City to begin a new life. With $200.00, no English or any contacts, he made his way to Central Park where he spent many nights. He found a job delivering groceries, and taught himself English by reading dictionaries in bookstores. The kindness of strangers led him back to medical school at Columbia University, U.S. citizenship in 2007, and a life devoted to healing. 
Deo's story is moving, and a true testament to perseverance. Whatever you feel after reading this true account, it will stay with you for some time. 
"A home without books is a body without a soul."  Ancient Roman scholar and statesman.
Find great resources in our
---