Students create powerful films about life in Haiti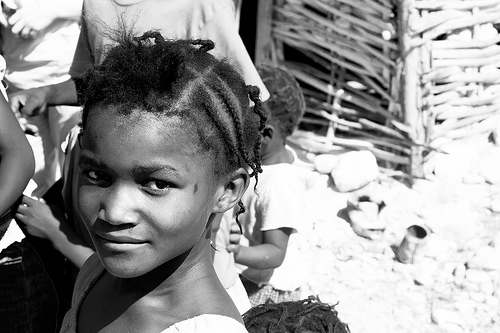 Haiti Reporters is a new film and journalism school based in Port-au-Prince, Haiti. With the first class of students completing the four month long filmmaking and journalism program in April, 2011, some of these students may become the next big names in the documentary film world.
Haiti Reporters was started by the Dutch non-profit Turtle Tree Foundation. The competitive program accepted 17 students out of over a hundred applicants and eight of the spots were reserved for women. Students range in age from 18 to 28 years old. The students learn all aspects of film and journalism including video production, interviews, final cut pro (editing software), script writing and photography. The equipment for filmmaking and reporting is provided to the students for free. Students are also given a small stipend of $75 per month and provided breakfast and lunch every day to help them out while they attend the school.

Katie Curran is an award winning documentary filmmaker from the U.S. who was invited to teach at the school for six weeks. Katie's film about the international food industry Greening the Revolution won her best female filmmaker at the Oaxaca Film Festival. She thoroughly enjoyed teaching at the school and working with the students and found it difficult to return to the U.S. after observing and experiencing a vastly different culture and living conditions.
The devastating 7.0 earthquake that occurred on January 12, 2010 resulted in over 200,000 deaths and left more than one million people homeless. Katie explained that the homeless figures are relative and really much higher than what is being reported as what is considered a house, dwelling or structure would not be considered a home in other parts of the world. Today, over one million people of which 380,000 are children continue to live in crowded displacement and earthquake refugee camps.
The students of the Haiti Reporters school are bringing awareness to non-Haitians about the struggles and life in Haiti through the students' short documentaries. The subject matter of the films vary from interviews with earthquake survivors ("Interview with Evelyn Margron"), making a living as a street vendor and supporting a family of nine ("Charcoal Merchant"), local artists ("The Painter") and election day ("Haiti Elections, November 28th 2010"). The films are in Haitian Creole, but many of them including the ones listed above contain English subtitles. Check out some of the captivating and emotionally charged short films here.
Find great resources in our
---