Suspended for going to prom?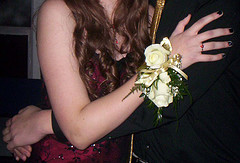 That's right. In Ohio, 17-year-old Tyler Frost went to his girlfriend's prom in May, 2009, at her public high school. However, the rules of Tyler's private Christian school prohibited dancing, rock music and hand-holding. Tyler is a senior and may also be kept from attending his graduation ceremony.
If Tyler went to a public high school, he may have a strong case against the school's discipline. Federal and state laws protect teens and adults from discrimination by public entities such as school districts.
However, private schools, where parents freely choose to send their teens, set their own rules. Consequences for violating the rules are up to the school. Any challenge to Tyler's suspension is not likely to succeed.
Find great resources in our
---