Teen celebs have privacy rights, too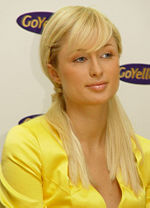 Paris Hilton has scored a win for privacy rights of celebrities.  Although in the public eye, there are limits to using a celebrity's image or photo without permission.
In 2007, Paris, age 28, sued Hallmark Cards for selling a birthday card with a picture of her face pasted on a cartoon waitress.  Hallmark did not have permission to use the photo and argued that it was a parody and therefore protected under the concept of fair-use.  The idea for the card was apparently taken from an episode of "The Simple Life" television show starring Paris and Nicole Richie.  
Parody means to poke fun at an original work  –  to create a spoof, humor or satire of a subject.  Fair-use, under the copyright laws, means that portions of a copyrighted work may be used without permission if the purpose for doing so is to educate, criticize, report, conduct research or comment. Whether the copied work is fair-use or not depends on a case-by-case analysis.
In August, 2009, a federal court ruled that the birthday card was not 'transformative' enough to be entitled to protection under the First Amendment.  Using an exact photo without permission and without a change in appearance was not acceptable.  Her lawsuit against Hallmark was allowed to proceed.
Find great resources in our
---