Teens take to vodka Gummi bears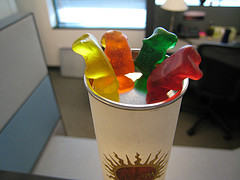 It never surprises us to read about the latest method teens devise to get past the law. While in juvenile court, Judge Tom came across many attempts to test clean when submitting to a urinalysis: from placing a penny under the tongue to drinking certain concoctions advertised as guaranteed to get you past the random UA. All failed.
Now, a new trend for getting drunk on Gummi bears is spreading. Who would have thought that a cute, colorful candy would turn deadly. But, as you know, anything that's abused can become harmful. Just like the Internet. The majority of users benefit from its unlimited potential. But a few make it a dark & dangerous place to be. Otherwise, we wouldn't be facing a cyberbullying epidemic.
Teenagers have discovered that soaking Gummi bears in vodka is a quick way to get high. Vodka doesn't have an odor and the bears keep their color and original shape (a little plumper if soaked for days).  They have been brought to sporting events at school, dances and even the classroom by a few daring students. Adults not familiar with this trend can look right past the student "drinking" on campus.
Other methods to avoid detection have sprung up recently. Emergency rooms have treated young people who have passed out from inserting vodka-soaked tampons into themselves. The walls of the vagina are thin and alcohol can enter the bloodstream quickly. Students have also used alcohol enemas for a quick high. In September, 2012, a Tennessee college student attained a .40 blood alcohol level, which can be fatal, by consuming alcohol rectally. ("Eyeballing" is also catching on: where an open liquor bottle is placed against your eye, allowing the alcohol to be absorbed through the blood vessels in the eye. All dangerous and possibly life-threatening. Alcohol poisoning causes many deaths every year.
Not everything new and exciting is safe. Until you try something, you don't know how your body will react. Aside from getting into trouble at school or with your parents, you have to ask if it's worth the risk to yourself. Too many teens die or become permanently disabled from risky acts: texting while driving, car-surfing, drinking games and even the occasional Russian Roulette. We hope you have a safe 2012 and that you make good choices so you can ring in 2013.
Find great resources in our
---