Texas senior can keep his long hair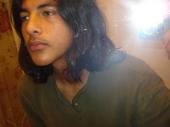 "I feel good that the school board respects me for who I am – a native person."
School rules at Somerset High School in Texas limit the length of boys' hair to the top of the shirt collar.  Jesus Figueroa is 17-years-old with shoulder-length hair.  He was told several times to cut it or there would be consequences.
In March he was given in-school suspension where he remained for three weeks.  It took an order from a federal court judge to get him back to his regular classroom while the school board considered the case.
Jesus is a Purhepecha Indian from the state of Michoacan, Mexico.  Like many indigenous peoples, he wears his hair long as a symbol of his spiritual connection to his Native American roots.  He believes his hair is a gift from the Great Spirit and should be cut only to mourn the death of a loved one.
On April 13, 2009, the school board voted unanimously to grant Jesus a special dispensation from the school's hair policy.  His lawyer plans to work with the school to revise the student handbook to recognize a student's right to religious expression.
In a similar challenge to a school's dress code, A.A. and his parents sued the Needville Independent School District for restricting their elementary school son from wearing his hair long and in braids.  The family is a member of the Lipan Apache Tribe of Texas.  The wearing of long hair symbolizes their ancestry and is part of a sincere religious belief.  The federal district court ruled in A.A.'s favor as did the 5th Circuit Court of Appeals on July 9, 2010.  The judge ruled that enforcing the school's dress code would represent a "significant" burden on the boy's religious beliefs.
In March, 2011, 13-year-old Seth Chaisson, a Native American, was suspended for two days at his Livingston Parish school in Louisiana. Seth's religious beliefs have grown deeper and he grew his hair out for cultural and religious reasons. The ACLU contacted the school and requested that he not be suspended again, informing them of the meaning of religious freedom of expression, even as applied to students.
Know your rights concerning freedom of religion and expression at school.
In a more recent case, J.T. Gaskins was a senior at Madison Academy in Michigan. The 17-year-old was diagnosed with leukemia at birth. He has been cancer-free since he was seven. In December, 2011, J.T. decided he wanted to do something positive in return for his years of health and the difficult first seven years of his life. He, like many other teens, started to grow his hair out to donate to Locks of Love. This is an organization that collects hair donations to make wigs for cancer patients or others who have suffered hair loss from medical conditions. However, his school prohibits boys from allowing their hair to cover their ears or touch their shoulders. In January, 2012, J.T. was suspended for three days and allowed back while the School Board considers changing their policy. It doesn't apply to girls. Let's hope common sense and compassion enter into their deliberations.
Find great resources in our
---