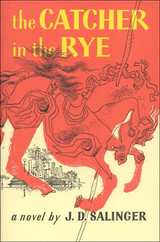 "The Catcher in the Rye" by J.D. Salinger (1951).
Although first published in 1951, "The Catcher in the Rye" is a timeless teen-angst narrative of a few days in the life of Holden Caufield.  Described as one of the great American novels of the twentieth century, it is also one of the most controversial.  It has been banned from school and public libraries in the U.S. and foreign countries, yet continues to sell a quarter million copies a year. Objections were lodged against its profanity, sexual content,  and Holden's use of  cigarettes and alcohol.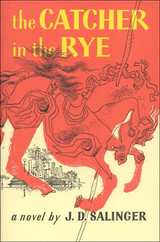 The story is told in the first person by Holden. He has just been expelled from a prep school for poor grades. Before returning home he spends three days in New York City where he experiences a few growing pains. Loneliness, alcohol, a prostitute and her pimp all join forces in Holden's world view of fellow students, professors and adults in general.
Holden's coming-of-age story resonates with today's youth.  His feelings of alienation, struggle with identity, connection and belonging are shared with generations that followed his. He talks about his brothers, younger sister and confidant Phoebe whom he adores, and his parents.  School friends and adults are criticized as phonies. His cynicism and humor gets him through difficult times. Some may be offended by his pursuit of relationships, intimacy and sexuality.  Whether you love or hate Holden's story, it's not one you'll forget.
A  few quotes from the book will give you a taste of Holden's philosophy:
"That's the thing about girls. Every time they do something pretty, even if they're not much to look at, or even if they're sort of stupid, you fall half in love with them, and then you never know where the hell you are. Girls. Jesus Christ. They can drive you crazy. They really can."
"God, I love it when a kid's nice and polite when you tighten their skate for them or something. Most kids are. They really are."
"You ought to go to a boys' school sometime. It's full of phonies, and all you do is study so that you can learn enough to be smart enough to be able to buy a goddam Cadillac some day….and you have to keep making believe you give a damn if the football team loses, and all you do is talk about girls and liquor and sex all day, and everybody sticks together in these dirty little goddam cliques."
"What really knocks me out is a book that, when you're all done reading it, you wish the author that wrote it was a terrific friend of yours and you could call him up on the phone whenever you felt like it."
You'll have to read "The Catcher in the Rye" to discover the meaning of the title.
The author, J.D. Salinger (1919-2010), was reclusive, avoided all interviews and interaction with fans. He once stated that "I love to write and I assure you I write regularly . . .but I write for myself, for my own pleasure. And I want to be left alone to do it."
Find great resources in our
---