The "N" word is no ordinary word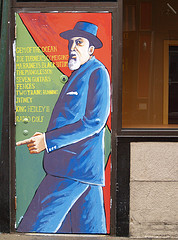 You don't have to look far to find an example of someone disciplined or fired for using the "N" word. In the United States, the word is undeniably racist and evokes memories of lynchings, pain and agony. However, for some black people, it is a term of endearment or pride, often replacing "dude" by young blacks.
In 1986, African-American playwright August Wilson wrote "Joe Turner's Come and Gone." This is the third in a ten-play historical chronology of the African-American experience in America during the twentieth century. Each play represents one decade – 'Come and Gone' portrays the 1910s.
A charter school in Connecticut decided to put the play on leaving every "N" word in place. Opposition from the community led to school board meetings and public forums. The students succeeded in convincing the adults that this was a teaching moment. The principal and director of the play were both white and believed that "Joe Turner" could defuse the power of the word. The play was finally approved with one requirement – following each presentation there would be a discussion with the audience about the "N" word.
One student explained that "This play has a message of freedom, of upliftment, of understanding other points of view." Another summed up the issue in stating "History is history. You don't want to forget it, but you want to let go of the pain and move forward."
For more on this subject and a recent revision of Mark Twain's Huckleberry Finn, see this post about the use of the "N" word in literature.
Do you think your school would have the courage to allow this play or others to be presented without altering the content? Do you see any value in leaving history as it is without making changes to conform to current trends or social values?
On June 22, 2015, following the murder of nine African-Americans in a church in Charleston, South Carolina on June 6, President Obama used the "N-word" when discussing race in America. It was entirely proper in context and has stirred debate across the nation. As with many examples, taking a soundbite from his comments excluding the full text is meaningless and misrepresents the point of the comment. Read with open eyes and a broad vision; it is counterproductive to limit your search for facts and justice by being myopic.
Find great resources in our
---