Threat of prison for "talking in class"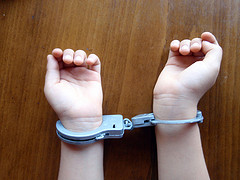 Not only is this title true but it involves a first-grade student in Chicago. On or about March 17, 2010, D.B. was in class at George Washington Carver Primary School. Apparently he was talking with friends when he shouldn't have been. The teacher called the school's security guard and had them removed from the classroom.
The officer took D.B. and a few other children to a separate room at the school. Reportedly, there were no other adults present. The officer placed them in handcuffs where they remained for more than an hour. The lawsuit alleges that they were told "they were going to prison and would never see their parents again." *
All attempts by D.B.'s mother to address and resolve this with the Chicago School Board failed. Consequently, a lawsuit against the Chicago Board of Education was filed in August, 2011. The plaintiff claims reckless and negligent conduct by those responsible for the care of students while at school. Without specifying the nature of any injuries, the lawsuit alleges that D.B. sustained emotional harm, pain and suffering and continues to suffer from such. Damages in excess of $100,000 are sought.
We have discussed several cases of "zero-tolerance" at school, usually involving students who are caught with prohibited items on campus. Weapons (real or pretend), drugs, ammunition, and other banned items lead to suspensions and expulsions. This case raises the issue of zero-tolerance for outrageous behavior by a school official. Although the claims in the lawsuit are just allegations at this point, an investigation is called for in view of D.B.'s age and potential harm by such harsh treatment.
*Read the Complaint filed against the school here.
Find great resources in our
---