Top ten new laws affecting teens (and parents) in 2011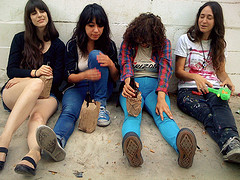 Many states have added new laws concerning teens and/or parents which went into effect on January 1, 2011. Here is a list of the top 10 new laws affecting teens:
1. Fake Facebook profiles beware. Making it a new crime to harass, cyberbully or defraud another person on the Internet, California is imposing harsh penalties for online impersonation.
2. Smoking incense isn't 'dope', or legal, in these states. Illinois is now one of at least a dozen states to outlaw the possession, sale or use of synthetic marijuana like Spice or K2. Several cities and municipalities in other states also have banned the substance.
3. Sext education. Illinois and Connecticut have added sexting laws to their books. Minors sending, receiving or obtaining nude or semi-nude photos will face misdemeanor charges and consequences including court supervision, community service and counseling.
4. Teens can give back by giving blood. A new law in Michigan allows 16 year olds to donate blood if they get a parent to sign a consent form. Morgan Doyle became the first 16 year old to take advantage of the new law and stated, "It feels good when you save somebody's life, or could possibly."
5.  Teens don't let parents RIDE drunk. It is now a crime in Illinois for parents to allow their teens with a learner's permit to be the designated driver. Sorry buzzed parents, but a drunk adult driver cannot be the ride-along supervisor, so you'll have to fork out the money for a cab.
6. Preventing distracted teen drivers. Graduated licensing systems that apply to drivers under 18 have been in effect in a number of states with Michigan and Louisiana being the most recent additions. These laws set a curfew on the hours teens can drive (for example, no driving between 10:00 p.m. and 5:00 a.m.) and limit the number of non-family members under the age of 18 riding in the car with them. There are exceptions such as teens driving past the curfew who are going to/from work.
7. Parent impersonators watch out. An adult who falsely represents to a tattoo or body piercing business as the parent or legal guardian of a minor for the purpose of providing parental consent to a body piercing will be guilty of a misdemeanor in Illinois.
8. Underage drinking is given a pass. In response to the tragic death of a high school student who died from alcohol poisoning when his friends feared calling the police, California has passed this law providing immunity from prosecution to underage drinkers who call 911 on behalf of themselves or their passed out/intoxicated friends for medical treatment.
9. Being the 'cool mom' isn't so cool. California became one of approximately 35 states to have a "social host" law. Any adult who provides alcohol to underage drinkers is responsible for any resulting property damage or personal injury.
10. Don't be a fool, get your kid to school. Following in the steps of some other states, California is holding parents of elementary and middle schoolers responsible for missing extensive amounts of school. Parents can be charged with a misdemeanor and face a fine and even jail time.
Find great resources in our
---