Travels with Charley – In Search of America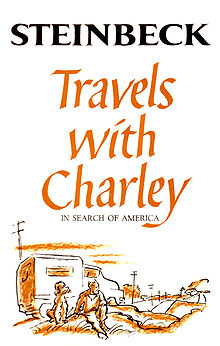 "When I was very young and the urge to be someplace else was on me, I was assured by mature people that maturity would cure this itch.  . . . .I fear the disease is incurable."
These words are from the opening page of John Steinbeck's 1960 travelogue of America, Travels with Charley.  Steinbeck had long considered himself as any other American – a migratory fruit picker [The Winter of Our Discontent] or Okie [Grapes of Wrath].  At age 58 with  two dozen books already published and a Pulitzer prize for literature, Steinbeck decided to set out and travel the United States, a country he had written about for the past twenty years.  In an interview a few years later with his son, Thom, he explained that his father was ill and wanted to see the country one last time  –  to rediscover its identity.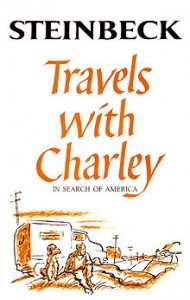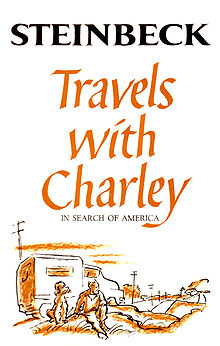 In the fall of 1960, after building a small cabin in the bed of his truck, Steinbeck left his home in Long Island, New York and headed north.  His only companion was Charley, a standard French poodle.  One reviewer described Charley as one of the most civilized and attractive dogs in literature.
He stopped in Connecticut to say goodbye to his teenage son before continuing on.   About this he wrote that his son was "one of two hundred teen-age prisoners of education just settling down to serve their winter sentence."   Many encountered by Steinbeck along the road expressed the desire to join him and leave everything behind.   The 10,000 mile trip took him through 38 states following the perimeter of the country.  About traveling he commented that  "A trip, a safari, an exploration, is an entity, different from all other journeys.  It has personality, temperament, individuality, uniqueness . . .we do not take a trip; a trip takes us."
He drove to Niagara Falls and on to Yellowstone National Park where Charley went crazy upon seeing a grizzly bear.  Steinbeck fell in love with Montana where he talked with locals, as he did everywhere he stopped.  He listened to morning radio shows and wrote about the attitudes, prejudices and the ways of life of those he met.
He continued on to Washington and wrote about the Columbia River and the Lewis and Clark Expedition 150 years earlier.  He headed south to California and the Salinas Valley where he had spent his childhood.   He rediscovered San Francisco and on the way, when he stopped at the giant redwoods, noticed that Charley, possibly out of respect, wouldn't urinate on them.  Charley took ill in Amarillo, Texas and spent a few days at a veterinary hospital.  It was then that Steinbeck realized what his life would be like without his old friend.
John Steinbeck concluded that  "From start to finish I found no strangers . . .These are my people and this is my country."  The American identity, he found, is exact and provable.  It triumphs over geography, temperament and dialect.  Other Steinbeck classics we recommend include:
The Red Pony
The Wayward Bus
The Pearl
Sweet Thursday
The Moon is Down
Of  Mice and Men
Tortilla Flat
East of Eden
Find great resources in our
---